Democrats Criticize Trump For Qasem Soleimani's Death, Warn Of 'Costly War'
KEY POINTS
Qasem Soleimani killed in U.S. airstrike
Militia leader Abu Mahdi al-Muhandi also dead
Ayatollah Khamenei vowed 'severe revenge' on U.S.
Even as Democratic presidential candidate hopefuls and other leaders acknowledge the role of Gen. Qasem Soleimani, who got killed in Baghdad in an airstrike ordered by President Trump, in orchestrating attacks against American troops and American allies, they also laid down a barrage of criticism on the President, citing legal concerns and warning of an escalating conflict in the Mideast.
The convoy carrying Gen. Soleimani and two top leaders of the Iranian-backed Popular Mobilisation Forces was struck by rockets just outside of Baghdad International Airport soon after midnight Thursday. The Pentagon confirmed the attack and said the airstrike was carried out to protect American lives.
US lawmakers were not told in advance of the attack. The strike "went forward with no notification or consultation with Congress," House Foreign Affairs Committee Chairman Eliot Engel said in a statement. As per the War Powers Resolution, the President has to notify Congress within 48 hours of committing armed forces to military action.
Former Vice President Joe Biden, the top contender for the Democratic nomination, said in a statement Thursday night that no American would mourn Gen. Suleimani, who supported terror. But Biden also called the Trump administration's action "hugely escalatory."
Sen. Bernie Sanders (I-Vt.) took to Twitter to oppose the killing and said, "Trump's dangerous escalation brings us closer to another disastrous war in the Middle East that could cost countless lives and trillions of more dollars. Trump promised to end endless wars, but this action puts us on the path to another one."
"When I voted against the war in Iraq in 2002, I feared it would lead to greater destabilization of the region. That fear, unfortunately, turned out to be true. The U.S. has lost approximately 4,500 brave troops, tens of thousands have been wounded, and we've spent trillions," he added.
Sen. Elizabeth Warren (D-Mass.) called the airstrike a "reckless move" and warned of a "costly war"
"Soleimani was a murderer, responsible for the deaths of thousands, including hundreds of Americans. But this reckless move escalates the situation with Iran and increases the likelihood of more deaths and new Middle East conflict. Our priority must be to avoid another costly war," Warren said.
​
Sen. Chris Murphy (D-Conn.) said, "Soleimani was an enemy of the United States. That's not a question. The question is this -- as reports suggest, did America just assassinate, without any congressional authorization, the second most powerful person in Iran, knowingly setting off a potential massive regional war?"
Although President Trump did not comment on the strike, he tweeted an image of a U.S. flag.
While the Democrats condemned the killing of one of Iran's most powerful figures, the Republicans celebrated the assassination, pointing out that Soleimani was responsible for the deaths of hundreds of U.S. service members in the Middle East.
US Secretary of State Mike Pompeo shared a video on Twitter saying, "Iraqis — Iraqis — dancing in the street for freedom; thankful that General Soleimani is no more."
Following the death of Soleimani, Iran's Supreme Leader Ayatollah Ali Khamenei warned that a "harsh retaliation is waiting" for the U.S.
Israel's defense minister planned to hold a security assessment Friday morning in Tel Aviv, supposed to attend by senior security officials even as prime minister Benjamin Netanyahu cut short his visit to Greece.
Last year in April, the State Department announced that Iran was responsible for killing 608 U.S. troops during the Iraq War and Soleimani led the Iranian and Iranian-backed forces carrying out those operations on American troops. As per the State Department, 17 percent of all deaths of U.S. personnel in Iraq between 2003 and 2011 were orchestrated by Soleimani, Fox News reported.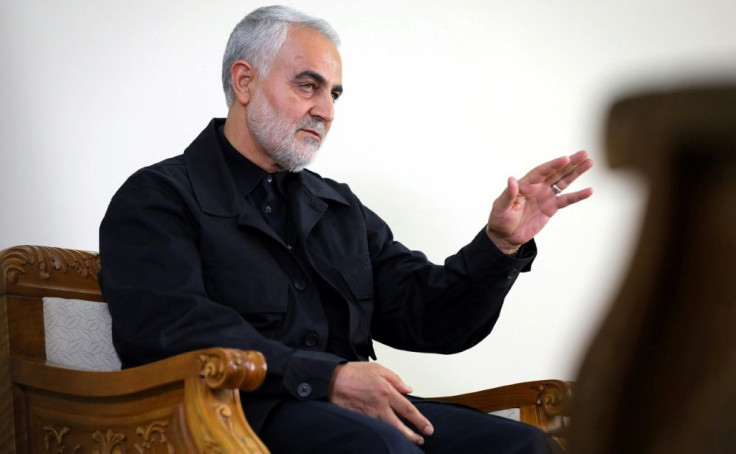 © Copyright IBTimes 2023. All rights reserved.