Despite Galaxy Note 8 Upcoming Release, Note 7 Loyalists Maintain Underground Market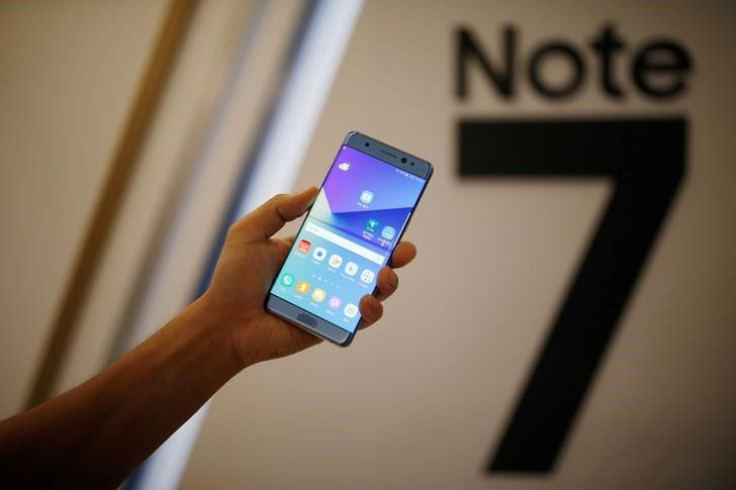 Samsung Galaxy Note 7 fans are essentially the Kanye West of mobile consumers. Their opinion is: "Galaxy Note 8, I'm really happy for you and I'm gonna let you finish, but the Galaxy Note 7 is one of the best smartphones of all time."
On this day last year, Samsung announced the Galaxy Note 7, a device intended to be a unique and innovative addition to the smartphone market. Instead, the Galaxy Note 7 release was devastated due to a series of recalls that made the device one Samsung wanted to quickly forget. Flaws in the Note 7 battery caused several devices to spontaneously combust just weeks after its Aug. 19, 2016 market release. The manufacturer scrambled to get the device outfitted with a new battery and back on the market; however, the newer models also began catching fire. The Galaxy Note 7 was recalled a second time and globally discontinued in October 2016.
Even so, relics of one of the most trying times in Samsung's history still exist and are still being used as intended. In January 2017, an estimated 76,000 people were using Galaxy Note 7 handsets in the U.S alone, according to a CNBC report. Those numbers have dwindled since Samsung released the Galaxy S8 and Galaxy S8+ in April 2017, but several enduring fans remain, even as Samsung prepares to announce a new Galaxy Note model at the end of August.
Samsung Galaxy Note: Who's Buying What?
The Samsung Galaxy Note 8 launch has been highly anticipated for several months, with new leaks and rumors surfacing almost daily. So far, the device is shaping up to be similar to the current Galaxy S8 devices, likely featuring an infinity display with an on-screen home button and a rear-facing fingerprint scanner. Reports indicate Samsung was once again forced to delay an on-screen fingerprint scanner, originally intended for the Galaxy S8. This setback may deter several current Galaxy Note 7 users who otherwise would be first in line to purchase the upcoming device.
"[Samsung] had an opportunity to get the rest of [the Note 7s] off the market with the Note 8, but I think it's going to be iterative rather than groundbreaking," Jack Estes, an IT consultant in Indianapolis told International Business Times. "Most of us are going to wait for the Note 9."
By "most of us," Estes is referring to fellow members of the Note 7 Alliance, an online forum where fans of the Galaxy Note 7 congregate to develop ways to keep their smartphones up and running. The forum is home to nearly 5,000 members. In addition to Note 7 maintenance, they also discuss news about Samsung's current and future plans. Opinions among the group vary, with some having already surrendered their Galaxy Note 7s in favor for the Galaxy S8 or another smartphone. Others plan to purchase the Galaxy Note 8 upon its release or wait for future Galaxy Note models. However, several owners of the ill-fated device feel slighted that Samsung did not view their dedication to the Galaxy Note 7 as a positive.
"We said it's not fair that we have this nice phone and you guys are making us go back to your old model. You should give us a discount or some type of incentive on the next phone because of this ridiculous double recall we had to go through," Zack Cernok, a swimming pool contractor in Quakertown, PA told IBT. "Samsung never responded to us. They treated us like we didn't exist."
Despite his gripes with Samsung, Cernok plans to be a Galaxy Note 8 early adopter. However, he also plans to keep his Galaxy Note 7, noting that those who own the device can still return it to Samsung for a refund.
"I'm going to hold on to this phone just because of the amount of effort and research I did. To me, it's worth more than $1,000. Will it ever be a collector's item? Who knows, maybe it will, but I don't want to throw the thing away," Cernok said.
Samsung did not respond when asked for comment on the Galaxy Note 7s still in circulation.
Factions That Keep The Galaxy Note 7 Alive
Owning and using an outlawed smartphone came with a host of challenges early on. Following the Galaxy Note 7 discontinuation, Samsung and its mobile network affiliates deployed a series of updates, intended to limit or drain the batteries of handsets still on the market. In response to these directives, the Note 7 Alliance's primary function was developing and perfecting an application to bypass Samsung's efforts to shut down Galaxy Note 7s still in use.
The Alliance Shield X firmware blocks update packages sent by mobile carriers from being able to hit Galaxy Note 7 handsets without requiring root access to the devices. Alliance forum developers created solutions for removing the 60 percent charging limit Samsung implemented on the Galaxy Note 7, as well at the 30 percent charging limit. The application also includes an NFC feature, which allows the firmware to be transferred from one Galaxy Note 7 to another by tapping the two phones together.
The Alliance Shield X is available to forum members; however, there are strict rules in place before the firmware can be accessed. "The application so far has been a Godsend," Estes told IBT. "It's what has kept the amount of Note 7s that are out there up."
Cernok occasionally participates in the Alliance forum but largely maintains his Galaxy Note 7 on his own. He was previously a member of a different forum called the Note 7 Rebels, which has since gone defunct. He has also hosted a YouTube channel discussing his experience maintaining his Galaxy Note 7.
Taking It Back To The Underground
Alliance developers are still working to reverse the zero percent update Samsung deployed to handsets, which drains devices of all battery power and hinders their ability to recharge. The developers are also working on a root solution for models of the Galaxy Note 7 running the Qualcomm Snapdragon 820 chip. If successful, the root will allow users to port the Android Nougat OS onto the devices, which launched to market running Android Marshmallow.
Alliance members believe there might be a resurgence of interest in the Galaxy Note 7 if its inner codes can be cracked. Other enthusiast groups, such as XDA Developers, have largely abandoned efforts to maintain the Galaxy Note 7, according to Estes.
Meanwhile, the Alliance forum has also served as an underground marketplace of sorts, where members sell Galaxy Note 7 handsets within the group, instead of sending them back to Samsung. Estes purchased a Galaxy Note 7 for his girlfriend from a fellow forum member who decided to buy the Galaxy S8.
"If somebody is deciding to get rid of their phone they would rather offer it to someone else in the forum who would keep going before they send it back to Samsung," Estes said. "Most people would rather get $400 or $500 from another forum member and call it a day, so they don't have to wait six, eight or 10 weeks for a refund check so they can go buy another phone."
Are Galaxy Note 7 Fans More Important Than Its Follies?
On the other side of the Galaxy Note 7 story are owners who had a far worse experience using the smartphone. As of the second Galaxy Note 7 recall, which began Oct. 13, 2016, there were 13 reports of burns, 47 reports of property damage and 96 reports of batteries overheating, according to the Consumer Product Safety Commission.
While sympathetic to those who suffered in Galaxy Note 7 incidents, some loyalists suggest the number of people still using handsets today greatly outnumber the number those who reported issues with the device.
Concern that Galaxy Note 7 malfunctions could cause more serious damage or even fatalities led to the device's discontinuation. However, some of the final incidents to surface in the news played out in a peculiar fashion. Reports of incidents involving the Galaxy Note 7 seemed to abruptly stop after the device was discontinued, according to Cernok.
"There was a timeline. All of the [explosions] happened within a two-month time period from when the phones were turned on. After that there's been no reports [in the news]," he said.
Three of the last reports of Galaxy Note 7 malfunctions detailed some of the horrifying incidents of the ordeal. A Galaxy Note 7 belonging to Southwest airline passenger Brian Green began smoking as his flight from Louisville, KY to Baltimore prepared for take-off. This incident led to the Federal Aviation Administration banning the Galaxy Note 7 from airplanes, a directive which remains in place today. A Galaxy Note 7 owned by Farmington, CT teenager Abby Zuis exploded in her hand just weeks after her parents replaced her original device. Michael Klering, a Nicholasville, KY resident, had to seek medical treatment for smoke inhalation after his Galaxy Note 7 caught fire as he slept. These incidents occurred just days before Samsung discontinued the Galaxy Note 7 on Oct. 11, 2016. There were virtually no more reports of handsets malfunctioning once the device was officially off the market.

As of July 19, Samsung still describes the Galaxy Note 7 recall as voluntary, which indicates owners have a choice as to whether they want to return their handsets. This has left many who still own the device confused as to why measures were taken to wirelessly shut down the smartphones still in circulation.
In particular, Verizon disabled outgoing calls on Galaxy Note 7 handsets. Attempting to make a call would direct users to customer service, similar to if they had missed a service payment. This prompted many to switch their wireless service to T-Mobile, according to Estes.
Despite their resistance, those who still own handsets have had to come to terms with the Galaxy Note 7 being a discontinued and recalled item, which is now illegal to take on take on airplanes. "Samsung established a protocol for the recall, and if we chose not to follow it, that's on us," Estes said.
Cernok noted that the one thing truly keeping the Galaxy Note 7 alive in the U.S. is that mobile carriers are not allowed to shut down wireless service on paid accounts because it is considered a public utility.
Fans Till The End
The Galaxy Note 8 is expected to release between September and October, which means many loyalists may soon switch to the new model. Forum chatter indicates that Samsung sent invites to Galaxy Note 7 owners to register for an all-expense paid trip to New York City to attend the Galaxy Note 8 Unpacked event. The contest is limited to 50 winners. Many have a renewed interest in returning their Galaxy Note 7s and using the refund money toward purchasing a Galaxy Note 8.

It is near certain, however, that there will always be Galaxy Note 7 handsets in the wild. Aside from the rogue users that kept the device alive, many still own units that were never taken out of their original packaging, according to Cernok.
Cernok plans to soon pack up his Galaxy Note 7, but may occasionally use it as a tablet. His interest in the Galaxy Note 7 as a product has dwindled amid his work and family responsibilities; however, he credits the device for sparking his interest in mobile technology. He said he may update his YouTube channel at least once more when he gets the Galaxy Note 8.
Estes is fully prepared to keep his Galaxy Note 7 for another year if the Galaxy Note 8 doesn't include standout features to urge him to upgrade. "[The Galaxy Note 7 is] a fantastic phone," Estes said. "There's virtually nothing I need a computing device for that I can't do on this phone. There isn't another substitute out there."
© Copyright IBTimes 2023. All rights reserved.
FOLLOW MORE IBT NEWS ON THE BELOW CHANNELS