'Devious Maids' Season 2 Spoilers: Episode 6 Synopsis Leaked Online; What Will Happen In 'Private Lives'?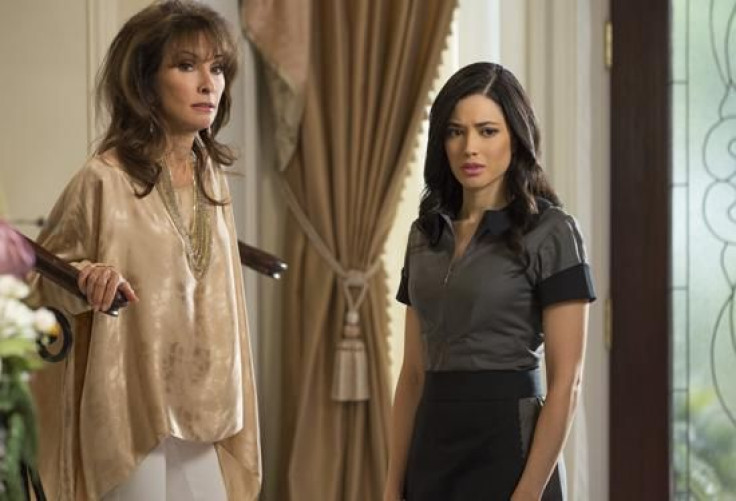 We didn't see that coming! Last night fans of the hit Lifetime series "Devious Maids" took a huge blow to the heart when we found out Ethan was the mastermind behind Alejandra's demise. Yep, take a moment to let that sink in. Apparently, Opal's evil son was in cohorts with Spence's suspicious, pill-popping nephew Ty.
At the end of "The Bad Seed" Ethan approaches Ty while he's taking out the garbage. He informs his partner-in-crime that if Ty spills any details regarding Alejandro's death than he will be forced to pin the murder on him.
And just as episode 5 ended on a web of secrets, episode 6, "Private Lives," will start out tangled in those sticky lies:
"Marisol discovers more secrets about Opal; Rosie attempts to help Lucinda; Carmen prepares for a performance; Zoila goes on a date; Genevieve interferes with Valentina and Ethan's relationship," the synopsis revealed.
Eek! And if that didn't excite you just wait until you hear what Marc Cherry is basing episode 6 on. If you haven't realized the creator's pattern yet, he likes to name all his Season 7 episodes after famous plays. And recently, he's taken a turn for the dark and dreary. But hey, what else can you expect in a soap opera? …Comedy, that's what! And that's exactly what you can expect in episode 6, "Private Lives."
"Private Lives" is a 1930 comedy of manner created in three acts by Noel Coward. It tells the story of a divorced couple, while honeymooning with their new spouses, discover they are actually staying in adjacent rooms from one another in the same hotel. Talk about awkward. Despite their tumultuous relationship and uncomfortable encounter, they realize they still have feelings for one another.
Can you guess who "Private Lives" could be referring to? There are a few characters we have in mind. Take Evelyn, Tony and Adrian for example. These three have a rather odd relationship. Evelyn loves having the hot and sexy bodyguard around but she wants to have her cake and eat it, too. She craves Tony's attention but wants to keep the lavish lifestyle Adrian has provided her. Will Evelyn be making her decision of who she wants to keep romantically in her life in episode 6?
Sound off in the comments section below who you think "Private Lives" will be focusing on. We'd love to hear your predictions!
© Copyright IBTimes 2023. All rights reserved.