DHS Immigration Shutdown: Senate Votes To Avert Funding Lapse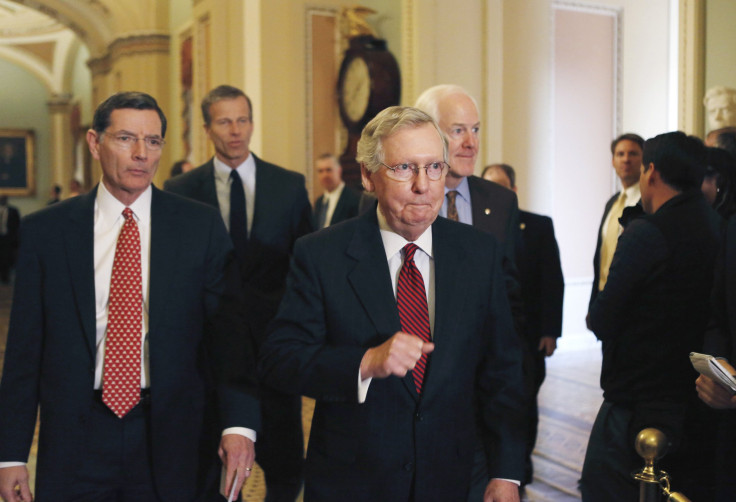 WASHINGTON -- The Senate logjam blocking funding for the Department of Homeland Security was finally broken Wednesday afternoon. The Senate voted 98 to 2 to allow a funding bill for DHS to move forward with the Friday shutdown deadline looming, finally clearing a procedural hurdle that has blocked the measure for weeks.
The Senate leadership struck a deal to pass a "clean" bill that will fund DHS without the House provisions that reverse the president's immigration executive orders. The Senate will address immigration in a separate bill.
"I have spoken with the Democratic leader [Harry Reid] and my colleagues on the Republican side and commit to offering an amendment to the House bill to fully fund the Department of Homeland Security, while addressing the president's executive actions on a separate, adjacent track," said Majority Leader Mitch McConnell, R-Ky.
It remains unclear, however, whether House Speaker John Boehner, R-Ohio, will allow a vote on the clean bill. Boehner has refused to say what he will do next until after the Senate acts. And the process could still get stalled beyond the Friday deadline in the Senate if conservative members employ every option available to them in the chamber's rules since additional votes are still needed. Two Republicans, Alabama Sen. Jeff Sessions and Oklahoma Sen. Jim Inhofe, were the votes against the DHS bill. Sessions has voiced strong opposition to abandoning the immigration elements of the bill and is the most likely member to delay the process.
It's the first sign of movement to fund DHS before the agency will be forced to shut down on Saturday since it became clear Congress had hit an impasse earlier this month. It took four failed votes in the Senate, but the fifth time turned out to be the charm. Both parties in the Senate knew they risked blame if the agency is allowed to shut down thanks to the funding bill floundering in the Senate.
But for Boehner, the political calculations are different. He must also deal with conservatives in his chamber who want to aggressively fight the president on immigration. If Boehner allows a vote to go forward -- which would likely pass with all of the House Democrats and a handful of the needed Republicans -- the speaker would risk inciting a riot in his conference. Boehner refused on Wednesday to discuss the possibility that conservatives could try to remove him as speaker if he did so.
© Copyright IBTimes 2023. All rights reserved.