Immigration, DHS Shutdown 2015: Congress Remains Stuck At Funding Impasse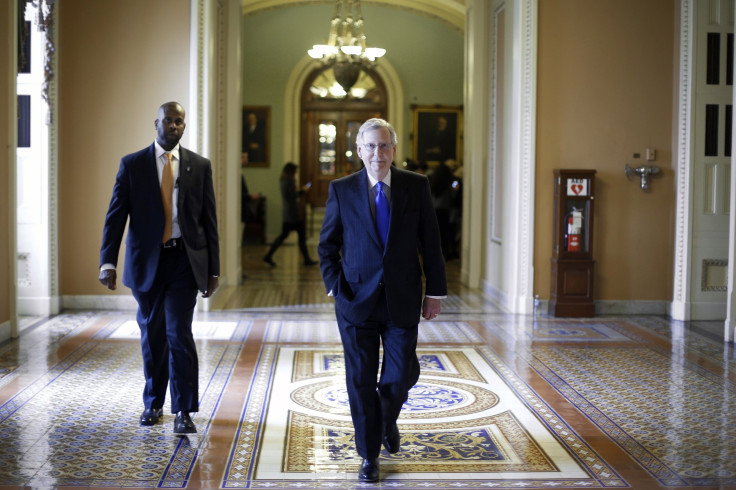 WASHINGTON -- Congress is hurtling toward another government funding lapse with no sign of anyone hitting the brakes. As of Monday evening, the Department of Homeland Security's funding was still scheduled to expire on Friday at midnight.
To no one's surprise, the Senate failed for the fourth time on Monday to clear a procedural hurdle for a bill that would both fund DHS and reverse all of the executive actions President Barack Obama has taken on immigration, as conservatives' have demanded. The bill, which passed the House last month on partisan lines, would not only have undone the president's move last year to provide legal status to about 5 million people, but also previous actions to allow those who were brought to the country as children to remain legally.
Congress has been at an impasse for weeks. Moderate and more elder Republicans have started to push their leadership to abandon their efforts to fight the president, but so far, there are no signs they could prevail.
House Speaker John Boehner has repeatedly insisted it's Senate Majority Leader Mitch McConnell's problem to deal with and that he won't move a new bill through his chamber.
McConnell filed a bill after the latest failure that would only block the president's executive orders from November. He's apparently hoping to capitalize on the fact that a handful of Senate Democrats were critical of the president when he signed those orders. Republicans can now work to pressure those Democrats into supporting the new bill and try to leverage that support to unstick the spending bill. It also could provide an outlet for unhappy conservatives, allowing them to vote against the president even if the effort will ultimately be futile since Obama would veto it.
"It's another way to get the Senate unstuck from a Democratic filibuster and move us forward," McConnell said.
Democrats in the Senate have been holding strong. Almost all legislation needs 60 votes to proceed in the Senate, meaning Republicans need six Democrats to side with them. So far, not a single Democrat has broken ranks.
Republicans in the Senate point to Democrats as the problem. They say that if the Democrats simply allowed the bill to move forward, debate could be held on the legislation and amendments voted on. But Democrats say it's the Republicans who are trying to hold the funding hostage with the immigration changes included.
Even if the Senate Democrats did allow the bill to move forward, Obama continues to make clear that he would veto the legislation. He told a group of the nation's governors on Monday that he isn't budging and that if Congress sends him a bill that would reverse his immigration orders, he will veto it.
As many of the nation's governors attended the National Governor's Association meeting this weekend, they expressed concern that DHS funding would be allowed to lapse. For governors, a partial shutdown of DHS could mean a slower flow of grant money into their states. Even Republicans were less eager to keep up the fight on immigration as part of the DHS funding fight.
The president hosted several governors at the White House on Monday, including a closed-door question and answer session with the state leaders. According to attendees, there was a robust discussion between the governors and Obama about the fight over DHS funding. One attendee, Gov. Mike Pence, a Republican from Indiana, said he called on Obama to tell Senate Democrats to stop voting against the legislation. Obama declined to do so, those attendees said.
North Carolina Gov. Pat McCrory, a Republican, said he thinks both political parties in the fight are overstating the circumstances. He was one of 25 governors who signed on to a lawsuit against the president's executive orders that resulted in a Texas judge last week delaying the implementation of the immigration changes.
"I signed my name to what Texas is doing, but at the same time, I don't think you should hijack Homeland Security funds to deal with that issue," McCrory said on Monday.
But at least one Republican governor is fine with a shutdown if it means fighting the president on immigration. South Carolina Gov. Nikki Haley, a Republican, said she thinks it's important to continue to press the issue.
"I would like to them stick to their guns," Haley said.
Because "essential" personnel would not be affected, busting the Friday deadline wouldn't actually cripple Homeland Security operationally. But in this era of ISIS aggression, the optics of allowing funding to lapse for the department responsible for protecting the U.S. from terrorism may finally push Speaker Boehner into finding a way to pass a "clean" DHS bill (one that doesn't include any immigration provisos) -- perhaps on the quiet this coming weekend.
FOR FREE to continue reading
✔️ Unlock the full content of International Business Times UK for free
offer available for a limited time only
✔️ Easily manage your Newsletters subscriptions and save your favourite articles
✔️ No payment method required
Already have an account? Log in
© Copyright IBTimes 2023. All rights reserved.