'Diablo 3' Release Date Nears: Beta Giveaway Launches, Will This Mean More Bugs?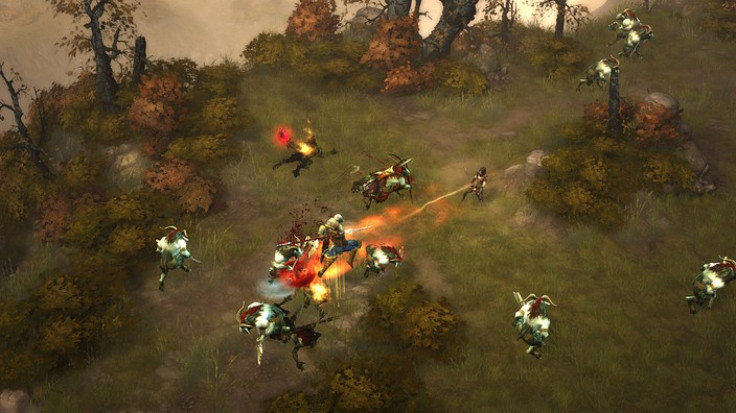 Fans itching to play the upcoming Diablo 3 will be getting a sneak preview this weekend. Any player with a valid Battle.net account will be able to download the Diablo 3 client. Blizzard announced that it will be conducting a three-day stress test of the game, building up to its official launch on May 15th. The weekend beta event launched on April 20th at 12 p.m. and will continue through April 23rd at 10 a.m.
The client is about 58MB, with a download total of 4GB according to Time magazine's Techland section. There are five classes available in the open beta, with the levels maxing at 13. The classes include barbarian, witch doctor, wizard, monk and demon hunter, each participating in the fight to prevent a demonic invasion.
Although the game won't be released for another few weeks, players will have the chance to see how Blizzard's next part of the Diablo series will run. This gives hardcore gamers time to upgrade their processors and graphics cards before the big day.
There will likely be bugs and glitches, but an open beta is a good way to get many of them ironed out before the actual launch, writes Paul Tassi of Forbes.
Blizzard has been exceedingly generous with its beta invites as of late, with the company sending out 275,000 additional keys earlier in April. But this may not always be a positive thing, as gamers have been experiencing issues when attempting to log in to the beta.
Just given beta access and it goes down :( one players posted in a Battle.net forum.
We're aware that players are experience issues when attempting to access the Diablo III beta, as well when creating/joining games and using chat, Blizzard responded. We're troubleshooting those issues currently, and though we don't have an ETA to share, we hope to have them resolved as soon as possible.
The recently released beta patch 18 is said to fix a few bugs, such as allowing friends lists from other Blizzard games to appear properly in the Diablo 3 beta client.
However, there are some slight differences between the weekend beta event and the closed invite-only beta that has been ongoing. Stress testers will not have the ability to post in the beta forums and will not be given Beta Bucks to test Blizzard's currency-based auction house. But players in Korea will not be able to participate due to regional differences in the games. Hopefully Korean players won't have to wait that long, as Blizzard plans to launch a version of the invite-only beta in Korea, Taiwan, Hong King and Macau.
The invite-only beta will be closing on May 1st, as Blizzard announced on April 17th.
We'd like to thank everyone who has participated in the Diablo III beta, the company posted on its website. You've done an admirable job of testing, and we greatly appreciate all of the feedback you've provided during this critical phase of development.
It was also recently revealed that a novel will be launched on the same day as the new game, which will delve into the past of character Deckard Cain.
© Copyright IBTimes 2023. All rights reserved.