'Diablo 3' Release Date 2012: Blizzard Moves Toward Console Launch, 5 Reasons It Won't Work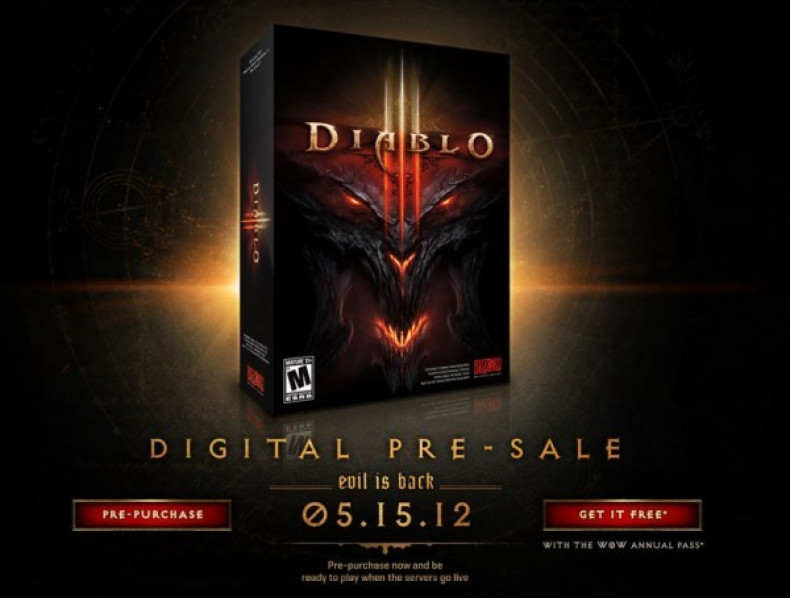 Fans are anticipating the newest addition to the Diablo series, which is set to be released on May 15 for PCs. However, there was one detail missing from the launch announcement earlier in March. Gamers were expecting the adventure RPG to come to consoles, but there was no mention of an Xbox or PlayStation debut.
But that could change very soon, according to a report from ComputerAndVideoGames.com. COO Paul Sams told the website that Blizzard is pursuing a console edition of the 16-year-old game.
We're continuing to explore [Diablo 3 on consoles], he said to the website. We think that the way we built it for the PC may need some tweaking, but it will ultimately be the type of game that can really make sense and be really fun, well-polished and a true Blizzard-level experience on a console.
One of the primary reasons Diablo stuck with its PC origins is to emphasize the main priority at hand.
We get a lot of questions about why we haven't made a game for consoles before, said Sams. And I tell them the same thing I tell them about business models: we don't let business models or platforms drive our decisions. Those are secondary to what's the most important aspect for us which is the gameplay.
But there is one key question players are considering: Will Diablo be better on a console than a PC? Here are a few reasons players should beware of the traditional computer-based game making its way to the console world.
1. Controller vs. keyboard. Fans of the game aren't used to maneuvering with a controller, and this could prove to be a difficult adjustment. The PC controls work on a click-to-move type basis, and No way am I going to bother with a console version, one fan wrote in a Diablo 3 message board on BattleForums. There is no need. Plus the mouse/keyboard is way too intuitive to give it up. Controllers are pretty poorly designed, and I saw that for all the modern ones.
2. Tweaks and changes. Diablo is a series that was tailored to fit the PC prototype. This means that the new game would have to be redone and tweaked in certain aspects. One of the most obvious changes would be the controls, but in order to fit with consoles Diablo could find itself competing with other major players, such as The Elder Scrolls V: Skyrim and Mass Effect. This is a factor that wasn't a priority to Blizzard before.
3. What about Battle.net? One of the landmark features Blizzard gaming has to offer is the convenient connection between players. Battle.net allows gamers to unite in multiplayer missions and socialize, and has become a staple of titles such as Diablo, World of Warcraft and StarCraft. So how would that work with consoles? Will fans be content with switching to Xbox Live or the PlayStation Network for their Diablo multiplayer needs?
4. Blizzard doesn't do consoles. The studio has a reputation for producing phenomenal PC adventures, but can't say the same for console creations. StarCraft: Ghost was intended to be ported as a console title as well, but the project failed. The game was scrapped early during its development stages. People don't want to believe us when we say we're going to make a console game, game director Jay Wilson told GameInformer in November. I understand why they don't believe us, because we've tried this before. We've also never invested in it to the degree that we're doing now, and we've never had a product that we felt was appropriate for it.
5. Looks and customization. In addition to controls, graphics and aesthetics are just as vulnerable when it comes to porting titles. The PC has been happily running games at 1080p and above for yonks, writes TechRadar's Ed Ricketts when comparing PC and console gaming. Let's also not forget one of the most important aspects in RPG gaming: customization. And the PC is full of it, with mods and add-ons galore that aren't available on gaming systems.