Did Carly Aquilino And Chris Distefano Break Up? Instagram Users Wonder If 'Girl Code' Couple Split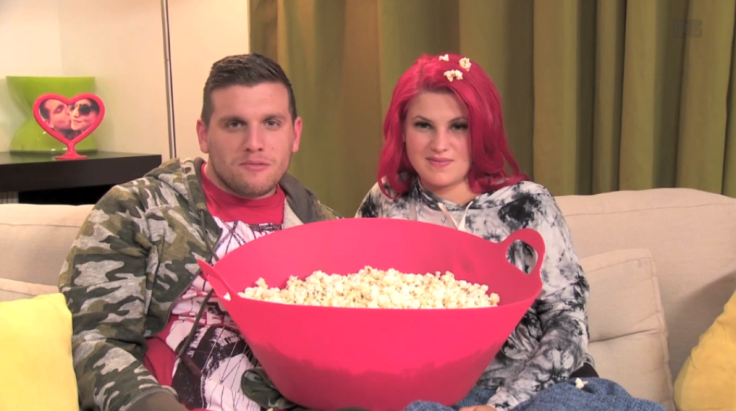 Fans of MTV's "Girl Code" who follow Carly Aquilino and Chris Distefano on social media have wondered if the funny couple broke up after a series of telling posts. The two were open about their relationship, but things seem to have changed since the start of the New Year.
The MTV comedians used to pose for pictures together and share them on their Instagram accounts, but Aquilino's IG seems to have been purged of all images with Distefano. And the "Guy Code" star hasn't posted an image on IG with Aquilino in it since December.
Around the same time, the pink-haired comedian began posting cryptic messages on IG. She would post images that contained messages like things like, "If Britney can get through 2007 you can get through this day" or "When life is sweet say thank you and celebrate and when life is bitter say thank you and grow."
Aquilino also has a series of posts along the lines of "this could be us but you're playing." Most of them are pretty funny, but it's definitely something a single person would post, or at least it's not something someone who is happy in her relationship would normally post.
Aquilino also appears to have taken the ultimate girls' vacation with friend and "Girl Code" co-host Jessimae Peluso. The two documented their weekend trip to Miami with photos that show them soaking up the sun.
Unlike at the 2013 MTV Video Music Awards, Aquilino went stag to the MTV Movie Awards this year.
Since Aquilino and Distefano haven't been spotted together recently, have seemingly ditched each other on social media and have been posting cryptic messages on IG (at least on Aquilino's part) it seems they are no longer together.
According to The Online Rocket in a February interview with students from Slippery Rock University in Pennsylvania, the two addressed the fact they had split by awkwardly laughing it off and saying they were still close friends.
Follow me on Twitter @mariamzzarella
© Copyright IBTimes 2023. All rights reserved.