Did Christopher Dorner Escape Big Bear? Ex-LAPD Cop Reportedly Spotted In San Diego, Manhunt Continues [PHOTO]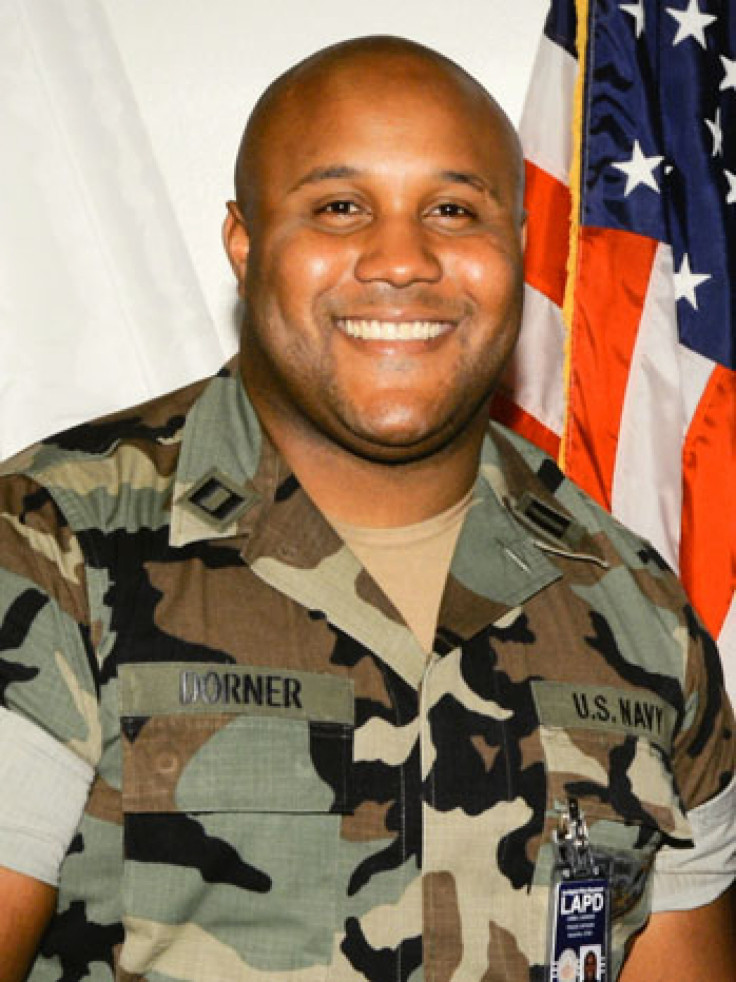 Authorities in Big Bear Lake, Calif., continued a massive manhunt for ex-LAPD police officer Christopher Dorner early Friday morning. The search will become more difficult for officials as severe winter storm conditions could cover up whatever tracks Dorner might have left behind.
Dorner, 33, is the prime suspect in the killing of a police officer, and another officer's daughter and fiancé. The alleged murders were reportedly in response to Dorner being fired from the LAPD in 2008.
The latest updates in the manhunt for Dorner indicated that a caller told authorities that Dorner may have been spotted near the Barona Indian Reservation in San Diego early Friday.
Meanwhile, police are investigating Dorner's torched pickup truck, which was discovered on Thursday afternoon near Big Bear Lake, about 100 miles east of the Los Angeles area, where the killings took place.
While the densely wooded area was flooded with hundreds of officers, helicopters and door-to-door searches, officials said late Thursday that they believe there is a chance Dorner could have relocated by now. If Dorner is still in the mountains, an approaching snowstorm could make the search for him more difficult.
The National Weather Service issued a winter storm warning early Friday for the Big Bear Lake area, with up to 10 inches of snow possible. Combined with winds up to 50 mph, visibility could be reduced to a quarter-mile, and temperatures could plunge to six degrees Fahrenheit, the weather service said.
Authorities locked down the Big Bear area on Thursday, after Dorner's truck was found. Late in the evening, after a lengthy search and no sightings or tips about Dorner's whereabouts, San Bernardino sheriff officials announced that schools and the local ski resort would open Friday.
The announcement fueled speculation that Dorner may have escaped the area.
"He could be anywhere at this point," San Bernardino County Sheriff John McMahon said.
Having served in the Navy Reserves from July 2002 until last Friday, according to records released by the U.S. Navy, Dorner's purported motive was discovered in a lengthy manifesto that he allegedly wrote and posted on Facebook prior to the killings.
In the manifesto, Dorner specifically named retired L.A. police Captain Randy Quan as one of men responsible for his 2008 firing. Dorner was disgruntled about that fact that Quan and others did not fairly represent him at the review hearing, reports said.
"Your lack of ethics and conspiring to wrong a just individual are over. Suppressing the truth will lead to deadly consequences for you and your family.
"There will be an element of surprise where you work, live, eat and sleep," he wrote, referring to Quan and several others.
"I never had the opportunity to have a family of my own, I'm terminating yours," he added.
In the document, he threatens violence against other police officers.
"The violence of action will be high. ... I will bring unconventional and asymmetrical warfare to those in LAPD uniform whether on or off duty," Dorner wrote.
Cal State Fullerton assistant basketball coach Monica Quan, 28, the daughter of the former LAPD officer, and her fiancé, Keith Lawrence, 27, were found gunned down in the parking lot of their upscale apartment complex in Irvine on Sunday night. Dorner is also suspected in the killings.
Dorner is described as a 6-foot-tall African-American who weighs about 270 pounds and has black hair and brown eyes.
Police said he is considered armed and dangerous, and authorities are warning people not to approach Dorner if they spot him. If they should see him, they suggest that you remain calm and call the appropriate authorities, they said.
© Copyright IBTimes 2023. All rights reserved.