Did Kanye West Slam Taylor Swift Again? Rapper Tweets About 'You Know Who' Being Nominated For Album Of The Year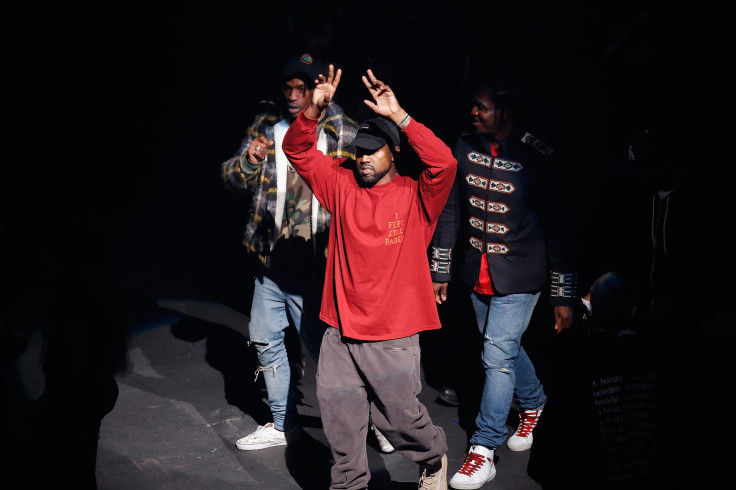 Kanye West resurfaced on Twitter Tuesday night to get a few things off his chest. While a majority of his rant focused on music critic Bob Ezrin's scathing review of his album "The Life of Pablo," West also had some pointed words for a certain "you know who," whom many believed may be Taylor Swift.
The "30 Hours" rapper began his rant by asking his 19.5 million followers if they knew who Ezrin was. As was reported by People magazine, he then requested that Ezrin never speak on him or his music "ever again" before writing that the critic's children "are ashamed of their dad." From there, West shifted gears, discussing the music industry and the exploitation of rap music. He recalled 2009, saying both "My Beautiful Dark Twisted Fantasy" and "Watch the Throne" were not nominated for any awards while "you know who" has two separate Album of the Year awards under their belt.
While it's unclear whether or not Swift is the artist in question — she won Album of the Year for "1989" at the Grammys this month — it wouldn't be the first time she and West had beef. On Feb. 18, audio from behind-the-scenes of "Saturday Night Live" leaked, allowing fans to learn how the "All Day" rapper really feels about Swift, whom he made amends with during the 2015 MTV Video Music Awards. In the clip, posted by E! Online, West can be heard complaining about the unauthorized destruction of one of his sets before calling the "Shake It Off" singer "fake."
Their most recent feud — if you can even call it that — stems from a lyric, which many considered off color, on "The Lift of Pablo." In the song "Famous" West raps that he and Swift "might still have sex." According to Hollywood Life, the "Bad Blood" singer was furious about the line, though West has told a very different story. After catching wind of the controversy the father of two set the record straight on social media. He told followers the controversial lyric was something "Taylor came up with." He said she was at dinner with a friend and told whoever it was that she couldn't get mad at the rapper "because he made me famous."
Neither Swift nor West has commented on the latest rumors.
© Copyright IBTimes 2023. All rights reserved.