Did Nancy Reagan's 'Just Say No' Anti-Drug Campaign Lay Foundation For Mass Incarceration A Decade Later?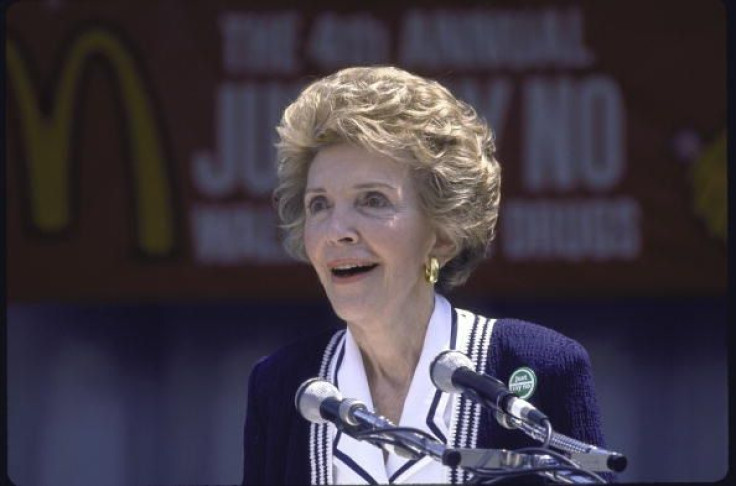 Millions of Americans won't soon forget the image of first lady Nancy Reagan surrounded by black schoolchildren in Oakland, California, where she coined the phrase, "Just Say No!" But the 1980s campaign to steer America's children away from drug use and addiction didn't have the desired impact decades later for Reagan, who died of heart failure at age 94 over the weekend.
The "Just Say No" campaign, a ubiquitous companion effort to President Ronald Reagan's War on Drugs, failed to reduce the likelihood that teenagers would experiment with illegal substances and did not make American communities safer, according to government data. Instead, it helped to establish school-to-prison pipeline policies across the nation that saw black and Latino students disproportionately kicked out of schools and jailed in juvenile detention centers. It also doomed many to adulthood interactions with the criminal justice system.
Top Drugs Used in the Past Year by 12th Graders | HealthGrove
Some anti-drug prohibition groups have suggested that Just Say No laid the groundwork for the mass incarceration policies enacted under Clinton administration a decade later. The proliferation of illegal drugs, especially crack cocaine, in major cities led to high crime rates in the 1980s and '90s. Nancy Reagan's anti-drug use message ignored the science behind drug abuse, by positing that users with strong wills and determination could quit any time they wanted, critics have said.
In 1986, the Just Say No campaign was made official by presidential proclamation and congressional resolution, according to the Ronald Reagan Presidential Foundation and Library. In the mid-1980s, crack use ravaged urban communities. But Reagan's messages targeted the use of marijuana, a plant-based substance some consider to be a "gateway drug" to crack, even though scientists at the time said it did not pose the kinds of societal threats suggested by the first lady.
Reagan's campaign, which included 110 appearances and 14 anti-drug speeches in 1984 alone, led to the creation of approximately 12,000 "Just Say No" youth clubs around the country and abroad. Early measures showed cocaine use among high school seniors had decreased by one-third, according to the Reagan Library. But students who participated in related Drug Abuse Resistance Education programs were just as likely as non-participants to try illegal drugs, studies later showed.
More than three decades later, nearly half of Americans report having tried marijuana, and legal sales in four states, beginning in Colorado and Washington, are booming. The impact of tougher drug sentencing laws enacted during the administrations of Presidents George H.W. Bush and Bill Clinton have led to bipartisan calls for criminal justice reform in 2016.
Racial disparities in the sentencing of drug offenders prompted Democratic calls for federal-level reforms. A more recent prescription drug and heroin abuse epidemic in majority-white communities has prompted Republicans to get on board.
African-Americans, who make up 13 percent of the U.S. population and whose drug use is proportionate to their numbers, were 34 percent of people arrested for drug offenses and 45 percent of those held in state prisons for drug offenses in 2009, according to FBI data. Also in 2009, 582,759 adults were on probation and 261,666 adults were on parole for drug law violations in the U.S.
Prior drug convictions precluded many ex-convicts from getting employment, financial aid for college, public housing and other federal and state-funded programs that might help them bounce back from years of imprisonment. But some states, including New York and California, have begun changing those policies.
Zero-tolerance policies for drugs in public schools saw more and more police officers assigned to patrol majority-minority school districts. Black and Latino kids became far more like to be arrested at school, reducing their likelihood of graduating, getting a job and staying out of the criminal justice system as adults.
First Lady Nancy Davis Reagan | InsideGov
© Copyright IBTimes 2022. All rights reserved.
FOLLOW MORE IBT NEWS ON THE BELOW CHANNELS