Did Trump Break Protocol On COVID-19 Vaccine Plan For White House?
KEY POINTS
Trump and many White House officials have already recovered from COVID-19
First shipments of the Pfizer/BioNTech vaccine were delivered during the weekend
Trump's comments seem to contradict federal protocol
President Donald Trump seemingly intends to go against advice from a top adviser on scheduling COVID-19 vaccinations at the White House.
Unless it's essential, the president said late Sunday via his Twitter account, people working in the White House should not be at the front of the vaccination line as set forth earlier in the day by the National Security Council.
His comments followed the first deliveries of the Pfizer/BioNTech vaccine for COVID-19 from distribution centers on Sunday. Trump, several members of his family and many top White House officials have already contracted the novel virus that's claimed 296,818 lives in the U.S. since Jan. 21.
Trump's message seems to contradict John Ullyot, a spokesman for the National Security Council, who told The Hill earlier on Sunday that officials across all three branches of the federal government would get vaccinated early according to protocol.
"The American people should have confidence that they are receiving the same safe and effective vaccine as senior officials of the United States government on the advice of public health professionals and national security leadership," Ullyot said.
Two sources familiar with the White House distribution plans told The New York Times on condition of anonymity that those working in close proximity to the president were expecting to be vaccinated soon. Others working in close contact with the president said they wanted to avoid sending the wrong message by getting early shots considering the spread of COVID-19 inside the White House, the Times added.
The U.S. Centers for Disease Control and Prevention recommended that health care workers and residents of long-term care facilities be among the first to get vaccinated.
During the weekend, some 2.9 million doses of the two-shot Pfizer/BioNTech vaccine were shipped in boxes containing dry ice to keep supplies at -94 degrees Fahrenheit, the frigid temperature needed to preserve the drug.
State-by-state distribution is based on each state's adult population. The states then decide the specifics of how to distribute the drug, but are expected to follow the federal guidance to place healthcare workers and nursing home residents at the front of the line.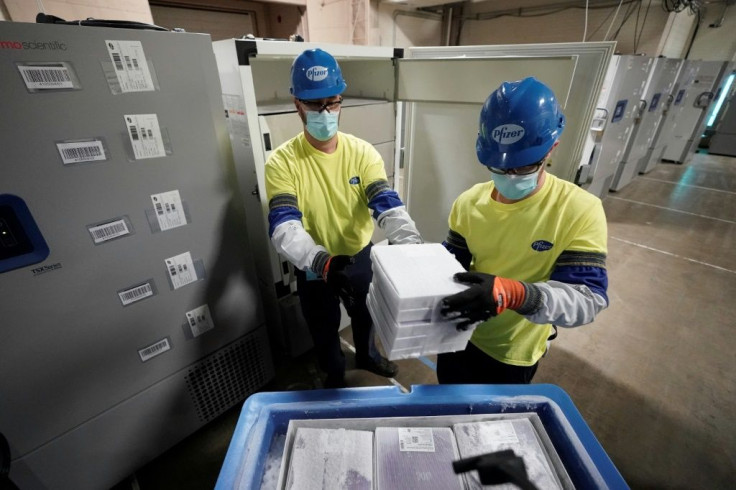 © Copyright IBTimes 2023. All rights reserved.