Disruptive Passenger Allegedly Assaults 2 Women, Urinates Openly On Frontier Flight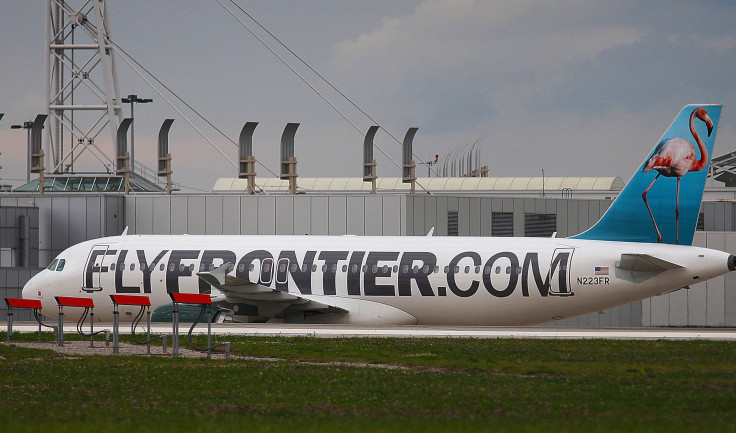 A Frontier Airlines passenger got allegedly drunk, assaulted a couple of women and even urinated on another person's seat Thursday on a flight from Denver, Colorado, to Charleston, South Carolina.
Pictures of the incident were taken by a passenger named Emily. She told Fox 31 what should have been a comfortable ride quickly turned into a nightmare midair.
"I got a seat on the back of the plane where I could just lay down and fall asleep," she said.
Unfortunately, that did not happen. As Emily tried to slip into a peaceful slumber, she was rudely awakened by the screams of another female passenger.
"I hear a woman scream, if this man f-----g touches me one more time I'll f-----g kill him," Emily said. She added the woman accused the man of being drunk and groping her.
"She said that he ordered two double shots of vodka, so four drinks while they were sitting there," she said. "He was out of his mind. Like he couldn't speak, he was mumbling. This man was extremely intoxicated."
Following the allegations of the woman, the disruptive passenger was moved to the back of the plane to an empty row, where he said directly across the aisle from Emily. Reports claimed another woman was also assaulted, but details were not revealed.
"They bring the man to the back across from me so they said you might want to get up just in case he tries to touch you," Emily said the flight crew warned her.
That is when Emily decided to take a picture of the passenger who was the source of all the trouble. As she proceeded to do, Emily said the passenger unzipped his pants and started urinating in the back pocket of the seat in front of him. In the picture that Emily clicked, the passenger sitting in seat in front of the intoxicated man seemed to be unaware of what was going on behind him.
"While I have my phone out trying to take a discreet photo he starts to pee and urinate on the seat in front of him," she said. "And I scream, he's f-----g peeing. He's peeing. Oh my god. And the flight attendant doesn't even acknowledge him at first. Acknowledges me and says you need to calm down and stop cursing."
Before verifying her claims, Emily said the flight crew told her to keep calm and not use swear words. After realizing she was telling the truth, they moved Emily to the front of the plane.
Although the airlines waived her bag fees and gave her a $200 voucher, Emily said she was not impressed by how the flight crew handled the situation.
"I think they handled it extremely poorly," she said. "Someone should have sat with him."
The unidentified man was arrested by airport security upon landing. It is not clear whether the man was charged or not.
Without divulging details about the incident, a Frontier Airlines spokesperson told ABC 15 they were aware of the situation.
"The safety and security of our passengers is our top priority at Frontier. We have been made aware of this situation and are working with the appropriate authorities," the spokesperson said.
© Copyright IBTimes 2023. All rights reserved.