DIY Halloween Decoration Ideas 2015: 8 Cheap Items For Yard, Outside And Indoors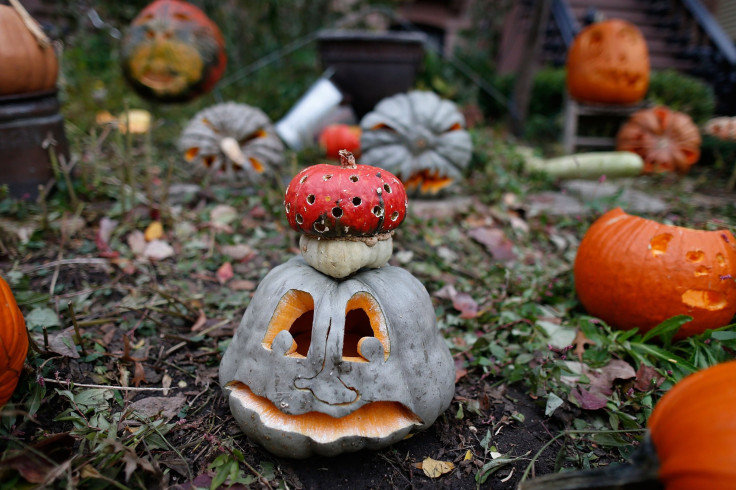 Halloween, the most ghoulish and spooktacular holiday of them all, is just weeks away. Whether it's with DIY items for the crafty or sale items for the thrifty, there are endless ways to decorate without breaking the bank.
1. Cheap Pumpkins: Even though it's good for local business, buying pumpkins from farmers can lean on the expensive side. A good way to decorate your home with the orange squash on the cheap is to buy them from the grocery store, where they are normally half the price.
2. DIY Glowing Eyes: Start saving your paper towel and toilet paper rolls. Cut out spooky eyes and insert glow sticks for a creepy effect in the dark.
3. DIY Bloody Handprint: This is a fun and easy decoration that Halloween enthusiasts can hang on the wall. All it takes is your hand, some glue and red food coloring. Mix the glue and coloring together on your hand. Let it dry and then carefully peel off. The bloody handprint should stick to any glass surface.
4. Spooky Lampshades: This DIY project requires only black construction paper, scissors and tape. Cut out some simple bats or jack-o'-lanterns and then stick them to the inside of lampshades.
5. Mummy Mason Jars: Wrap mason jars with dollar-store gauze. Add "googly" eyes and put a votive candle inside to complete the look.
6. Eerie Living Room: To make your home look like it's been abandoned, put white sheets over the furniture. If you don't have any, they can be bought on the cheap for $5 a pop.
7. Magic Potions: Spray-paint wine bottles of different sizes, paste printout labels. You can even add black candles to the top.
8. Vampire Napkins: Splash red Kool-Aid onto white cloth napkins. Tie each with a white twist tie, or twine if you have it, and complete it with plastic vampire teeth.
Follow me on Twitter @mariamzzarella
© Copyright IBTimes 2023. All rights reserved.