Doctor Transparency: Why Leana Wen Received Threats After Launching "Who's My Doctor"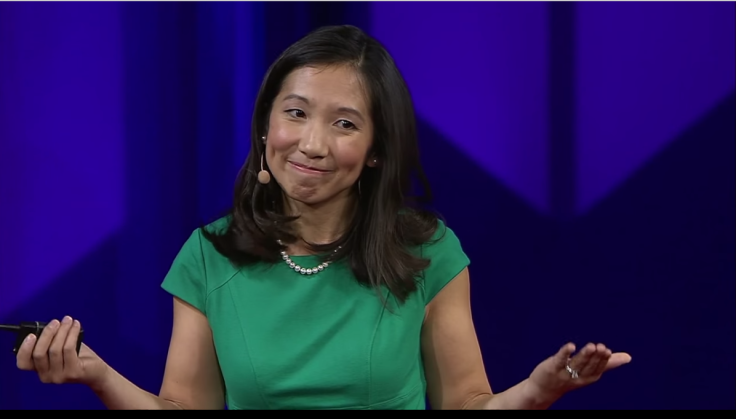 When Leana Wen created the "Who's My Doctor" campaign last year, the idea was to add some transparency to her profession. The effort asks participating physicians to disclose information about who they are and exactly where their money comes from. What Wen never anticipated was a barrage of pointed criticism — and even bomb threats.
The 31-year-old doctor's campaign goes a step further than the federal government's mandate requiring physicians to disclose all money they receive from drug companies. Last month, the Centers for Medicare & Medicaid Services released data that outlined the $3.5 billion that companies paid to the nation's doctors. The Open Payments database, mandated under the Physician Payments Sunshine Act, was heavily opposed by physician groups and pharmaceutical companies.
"Incentives matter," said Wen, who is an emergency room physician at George Washington University, in a recent TED talk. "If you go to your doctor because of back pain, you might want to know he's getting paid $5,000 to perform spine surgery versus $25 to refer you to see a physical therapist, or if he's getting paid the same thing no matter what he recommends."
As part of the "Who's My Doctor" effort, each physician voluntarily publishes a "Total Transparency Manifesto," which outlines specific details about these issues. The data flows into a searchable database that prospective patients can use. Doctors detail everything from where they went to school to payments from healthcare companies to board memberships to revenue information for their practice.
In Wen's manifesto, for instance, she writes that 55 percent of her revenue comes from the clinic, 40 percent from research, and the rest from freelance writing and speaking engagements. The questionnaire also touches on personal information such as where the doctor is from, marital status, and opinions on issues like smoking and having children.
One year after starting the project, only 34 "transparent doctors" are listed on the website. There are many more who were less than pleased about the idea.
"I thought some doctors would sign on and others wouldn't, but I had no idea of the backlash that would ensue," she said in her TED talk. Within a week of starting the project last fall, there were thousands of posts on the topic on Medscape, a popular online network for health professionals.
One orthopedic surgeon from Charlotte wrote: "I find it an invasion of my privacy to disclose where my income comes from. My patients don't disclose their incomes to me."
A psychiatrist in New York added: "Pretty soon we will have to disclose whether we prefer cats to dogs, what model of car we drive, and what toilet paper we use."
But the criticism quickly went beyond online comments. Soon, people were asking Wen's employer to fire her, and sending mail to her home address with threats.
"After the bomb threat, I was done," she said in her talk. "But then I heard from patients."
Wen says she received praise from patients looking for more from their doctors. They used social media to give Wen their support, especially after her TED talk went online a few days ago.
On Monday, Wen posted a call to action on her blog, asking doctors to join her in signing up for the program.
"Radical transparency won't be easy. There will be many critics, some who have ulterior motives and have something to hide, and others who are just scared of changing the status quo," she wrote. Wen then urged health care workers to "take off our white coats and show our patients who we are."
Here's the full TED MED talk:
© Copyright IBTimes 2023. All rights reserved.
FOLLOW MORE IBT NEWS ON THE BELOW CHANNELS