Does Bernie Sanders Have The Momentum Over Hillary Clinton? Polls Show Closest Race Since December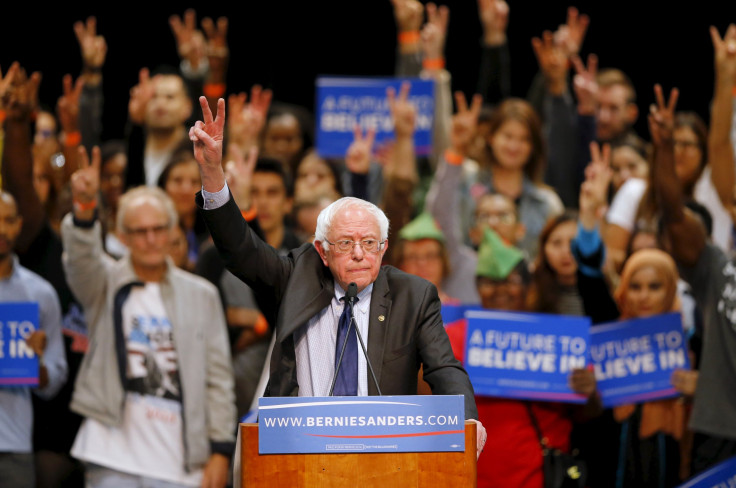 Bernie Sanders' weekend primary wins in Alaska, Hawaii and Washington amounted to only a small dent in Hillary Clinton's delegate lead, but the Vermont senator's momentum seems to be hitting the polls.
An NBC News/SurveyMonkey tracking poll of Democratic voters released Tuesday reveals that Sanders has shaved Clinton's lead nationally to just 6 points, the slimmest margin since that poll began tracking the election in December. Clinton still holds the lead, with 49 percent of likely voters surveyed saying they support the front-runner, but that is down 4 points from 53 percent in the same poll just one week prior. Meanwhile, Sanders is inching closer to the former secretary of state, up 2 points to 43 percent.
The poll surveyed 6,521 likely voters 18 and older March 21-27. The margin of error is plus or minus 1.7 points.
Central to Sanders' momentum is the fact that he has once again taken the lead in one of his key demographics — male voters. The NBC News/SurveyMonkey poll from the previous week showed Clinton had taken a 51 percent to 45 percent lead with male voters, but this week's shows Sanders ahead again 47 percent to 45 percent. Similarly, Clinton has lost ground to Sanders among white, black and Hispanic voters.
Despite Sanders' weekend wins and growing momentum, Clinton still seems on course to clinch the Democratic nomination. Clinton has secured 1,243 pledged delegates, while Sanders has only 975. When superdelegates are factored in, Clinton's number grows to 1,712, compared with Sanders' 1,004.
However, Sanders says he believes the superdelegates, who are not pledged until the convention, could still be swayed to change their minds.
"I think the superdelegates are going to have make a very difficult decision, and that is, if a candidate wins in a state by 40 or 50 points, who are you going to give your vote to?" Sanders told ABC Sunday. "Second of all, which candidate is better positioned to defeat Trump or any of the other Republican candidates? I think a lot of the superdelegates are going to conclude that it's Bernie Sanders."
In his quest to overtake Clinton, Sanders is eyeing the key April 19 primary in New York, where there are 247 delegates at stake. While the delegates in the primary are allocated proportionally, a decisive win in the state could either bring Sanders near even with or even ahead of Clinton, while a Clinton win would effectively end Sanders' chances of winning the nomination. Sanders has publicly called on Clinton to debate him in the state, while Clinton's campaign has said that she will not agree to more debates until Sanders takes a more positive tone in his campaign.
© Copyright IBTimes 2023. All rights reserved.