Does It Snow In California? Blizzard Warning Of 7 To 10 Feet Expected To Blanket Sierra Nevada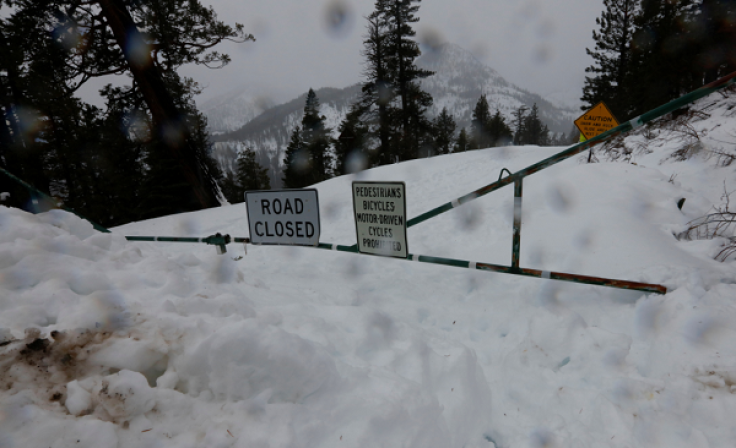 Northern California will continue to get beat down with bad weather after the National Weather Service issued a blizzard warning Tuesday. It is slated to be in effect until late Wednesday morning in areas surrounding Lake Tahoe, including Truckee and South Lake Tahoe. Warnings were also issued in areas near Stateline and Incline Village in Nevada.
Heavy rain and snow started battering areas of California, Nevada and Oregon early Wednesday morning causing road closures and school cancellations, according to reports.
The most drastic snowfall is expected to cover areas closest to the Seirra Nevada mountain range, which National Weather Service (NWS) forecast to reach anywhere between seven and 10 feet of snow in areas elevated above 7,000 feet. Along with heavy snow, strong winds are expected to reach about 100 miles per hour along the ridge of the Sierra Nevada, which has also led to avalanche warnings in mountain regions as well.
NWS also warned people to stay indoors as the mix of heavy snow and wind could cause people to "become lost or disoriented."
Mountain snowpack in areas around the Sierra already measured 135 percent of the seasonal average, according to the California Department of Water Resources. By Monday, the state's snow-water supply was already up a reported 126 percent from the seasonal average.
Meanwhile, in lower regions of California, flood warnings remain in effect are areas of northern and central California, including parts of Nappa Valley wine country and Sacramento and western Nevada. Flooding caused by constant heavy rainfall caused officials to open the Sacramento River floodgates for the first time in 11 years Tuesday. Lauren Hersh, a spokeswoman from California's Water Resources Department told Reuters Wednesday the opened floodgates should divert the rising water into a special drainage channel.
The latest mix of rain and snow to fall over California was the fourth round of excess precipitation to hit the state in the past month. Meteorologists said the harsh weather was due to an "atmospheric river," which is caused by a dense cloud of moisture moving from the tropical Pacific into California.
© Copyright IBTimes 2023. All rights reserved.