Dolly Parton Politely Rejects Statue, Requests Tennessee Delay Memorial Until Her Death
Tennessee state legislators wanted to honor one of their own and last month introduced a bill to erect a statue of country music legend and humanitarian Dolly Parton on the state Capitol grounds in Nashville.
But Parton wasn't keen on the idea, issuing a statement Thursday politely asking the lawmakers to attend to more important matters.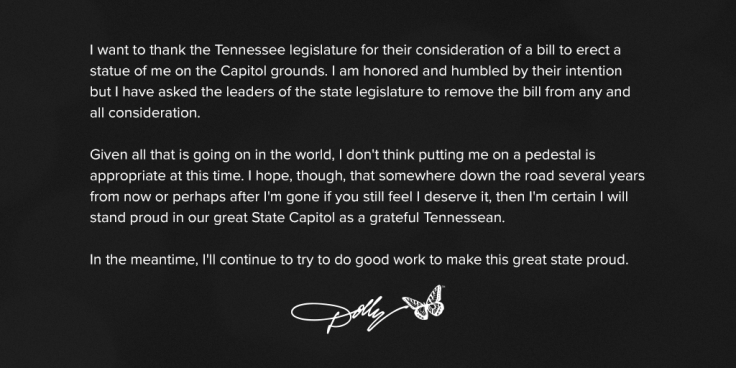 Parton is a native of East Tennessee and is memorialized with a statue in her hometown of Sevierville. She is also a part-owner of the Dollywood amusement park in Pigeon Forge, Tenn.
The 75-year-old entertainer has turned down other honors this year. Twice she declined the Presidential Medal of Freedom from former President Donald Trump and had said she's not sure she'd accept it if it were offered by President Joe Biden, either.
Rep. John Windle, a Democrat from Livingston, Tenn., introduced the bill requiring the State Capitol Commission to put together a plan for a statue of Parton to face the Ryman Auditorium, home of The Grand Old Opry in Nashville.
The bill will go before the House State Government Committee on Tuesday. The idea for a Parton monument in the State Capitol complex arose last year when lawmakers were debating the removal of the bust of Confederate general and Ku Klux Klan leader Nathan Bedford Forrest from the Capitol building.
Forrest was one of three busts ultimately removed by the commission, along with U.S. Admirals David Farragut – a Union loyalist who served during the Civil War – and Albert Gleaves, a veteran of both the Spanish-American War and World War I.
The New York Times published an opinion piece Monday by Margaret Renkl in support of a Parton monument, saying it could be a way forward for a legislative body that has been out of step with the most Tennesseans on several issues, including Medicaid expansion, requiring gun permits and expanding access to absentee voting.
Parton's commitment to helping children is deep. She created Dolly Parton's Imagination Library, which monthly mails a free book to children registered for the program. She created the program as a tribute to her father, who was unable to read or write.
She began the program in 1995 in Sevier County and took it to a national level in 2000, the same year her father died. More recently, her $1 million donation to COVID-19 research partly funded the vaccine released by Moderna, which is one of two being distributed in the U.S.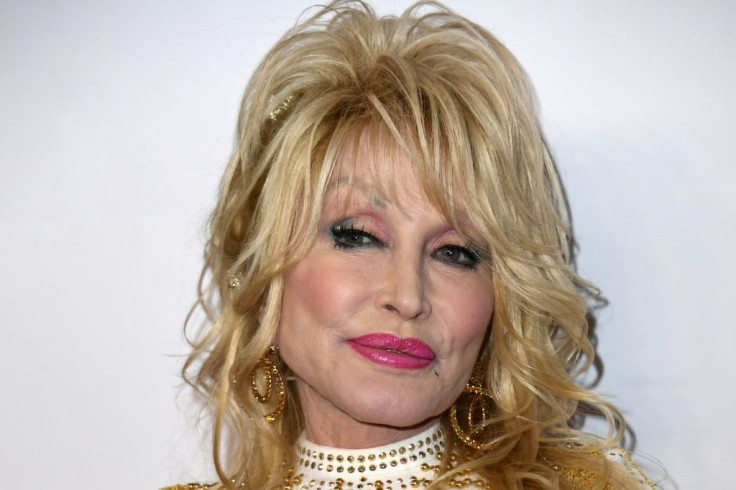 © Copyright IBTimes 2023. All rights reserved.