Donald Trump On 9/11: My Immigration Policies Would Have Prevented Sept. 11 Terrorist Attacks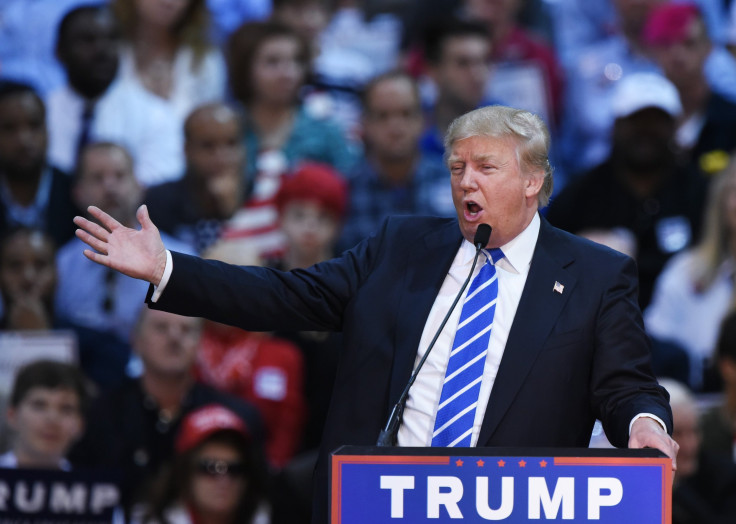 Donald Trump said Sunday his "extremely tough" immigration policies would have prevented the Sept. 11, 2001, attacks if he had been president of the United States. The Republican presidential candidate also said his GOP rival Jeb Bush should stop defending his brother over the terrorist attacks, which claimed the lives of nearly 3,000 people.
"I am extremely, extremely tough on illegal immigration. I'm extremely tough on people coming into this country. I believe that if I were running things, I doubt those people would have been in the country," Trump said on "Fox News Sunday," according to the Washington Post. "With that being said, I'm not blaming George Bush. But I don't want Jeb Bush saying, 'My brother kept us safe,' because Sept. 11 was one of the worst days in the history of this country."
Bush fired back at the real estate mogul and defended his brother, former President George W. Bush. "Look, my brother responded to a crisis, and he did it as you would hope a president would do. He united the country, he organized our country, and he kept us safe. And there's no denying that. The great majority of Americans believe that," the GOP presidential candidate said Sunday on CNN's "State of the Union."
Bush slammed Trump for his comments about the Sept. 11 attacks by al Qaeda terrorists and said they show his "lack of seriousness" about being commander-in-chief. Trump talks about national security and foreign policy as if he is playing a board game or still hosting reality TV show "The Apprentice," Bush said.
"Across the spectrum of foreign policy, Mr. Trump talks about things [like] that -- as though he's still on 'The Apprentice.' I mean, literally, talking about Syria, saying 'ISIS should take out Assad, then Russia should take out ISIS' as though it was some kind of board game and not a serious approach is just -- this is just another example of the lack of seriousness," he told CNN on Sunday, referring to the Syrian conflict in which Russia says it is conducting airstrikes against the Islamic State group, also known as ISIS or ISIL, in support of Syrian President Bashar Assad's regime.
Trump's comments on national security and immigration, among others, have created controversy in the U.S. presidential race. He has outlined several policies that suggest he would deport 11 million immigrants already in the United States and demand the Mexican government pay for a "permanent border wall" to be built between the U.S. and Mexico.
© Copyright IBTimes 2023. All rights reserved.
FOLLOW MORE IBT NEWS ON THE BELOW CHANNELS