Donald Trump Could Suffer From Alzheimer's Based On This
KEY POINTS
Donald Trump is at a higher risk for Alzheimer's or dementia because of his age
Donald Trump's father was diagnosed with Alzheimer's
Donald Trump could already be showing signs of dementia
Donald Trump has been showing signs that his memory is deteriorating. Other than forgetting certain dates, he has also struggled with remembering his friends.
According to The New York Times, the POTUS' dad, Fred Trump, suffered from Alzheimer's disease for years before he passed away in 1999. Even though he was diagnosed with this deadly form of dementia, Fred still managed to keep his position as chairman of the board of Trump Management.
Political Flare claimed that Melania Trump's husband could follow in his dad's footsteps with the heartbreaking diagnosis due to two reasons. First, a history of dementia within his family makes him more susceptible to the illness.
Another risk factor for dementia is age. The POTUS will be turning 74 years old this year, and he is also the oldest president to have ever been elected to a first term. According to the journal Neuroepidemiology, one in seven Americans over age 70 has dementia.
According to the U.S. Centers for Disease Control and Prevention, dementia can be divided into three stages: preclinical, mild cognitive impairment (MCI) and advanced.
In the preclinical stage, symptoms are not yet obvious. Mild Cognitive Impairment (MCI) includes symptoms of memory or other thinking problems that are greater than normal for a person's age and education.
In advanced dementia, the symptoms include memory loss, word-finding difficulty, and other diminished brain functions that prevent the person from living independently.
Political Flare journalist Andrea Jefferson claimed that the POTUS can be diagnosed with MCI.
"Trump can be diagnosed with Mild Cognitive Impairment because he is constantly in the public eye such that anyone who knows what to look for can see the signs and symptoms of Trump's disease," she said.
"He has many symptoms of Mild Cognitive Impairment, including poor memory, word-finding difficulty, slurred speech, linguistic decline, irritability, depression, mental confusion, lack of restraint, inexplicable lying, poor occupational performance, impaired judgment, and paranoia," she added.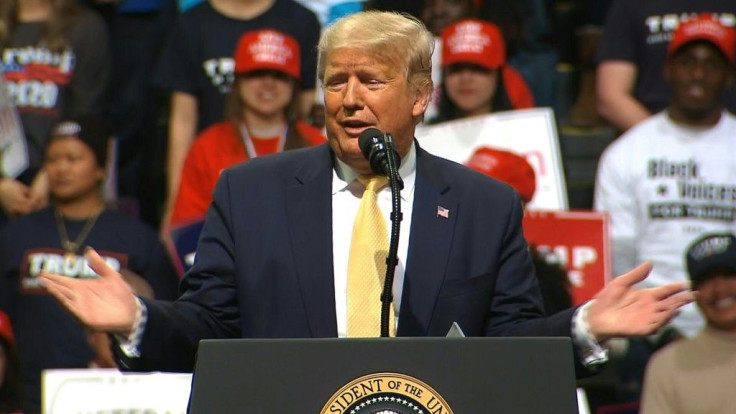 © Copyright IBTimes 2023. All rights reserved.