Is Donald Trump A Dictator? John McCain Says Suppressing Media Is Now Dictators Get Started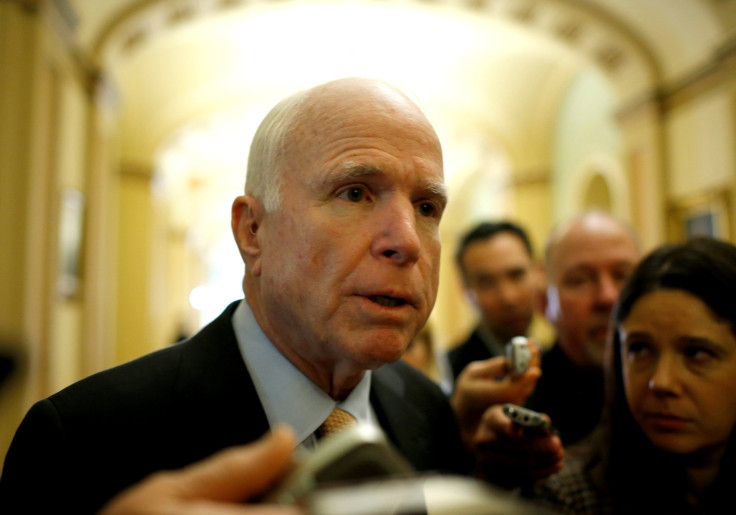 U.S. Sen. John McCain took issue Sunday with President Donald Trump's attack on the press, saying the approach he's taking is "how dictators get started."
In an interview on NBC's "Meet the Press," McCain said a thriving democracy needs a free and adversarial press.
At his news conference Thursday, Trump attacked the media for promoting "fake news," essentially anything with which he does not agree or casts him or his administration in a negative light, especially stories that come from anonymous sources. He reinforced the attack in tweets Friday and Saturday.
"We need a free press. We must have it. It's vital. If you want to preserve — I'm very serious now — if you want to preserve democracy as we know it, you have to have a free and many times adversarial press. And without it, I am afraid that we would lose so much of our individual liberties over time. That's how dictators get started," McCain said.
White House Chief of Staff Reince Priebus said Trump's relationship with the press is no different than that of earlier presidents.
"Thomas Jefferson, Abraham Lincoln, John Adams, have all had their issues with the press. I can assure you this … the president believes in the First Amendment. He believes in the free press. I believe in those things. We don't believe everyone is lousy in the media. We don't believe everything is bad," he said on "Meet the Press."
On CBS' "Face the Nation," Priebus called stories on disarray in the White House and questions about contacts with Russia during the campaign and the transition a "feeding frenzy" and "hollow stories."
He called on Americans to use "critical thought" in reading the stories in the press, adding the leaks coming out of intelligence agencies are a "shame and needs to end."
"President Trump is doing things every day to give businesses confidence," Priebus said.
Sen. Lindsey Graham, R-S.C., said Trump should dial back his rhetoric because the press is not the "enemy of the people."
"The backbone of democracy is a free press and an independent judiciary and we are not becoming a dictatorship," Graham said on "Face the Nation."
© Copyright IBTimes 2023. All rights reserved.