A Donald Trump - Mitch McConnell Cover Up? Nancy Pelosi Makes Critical Comments About Senate Impeachment Process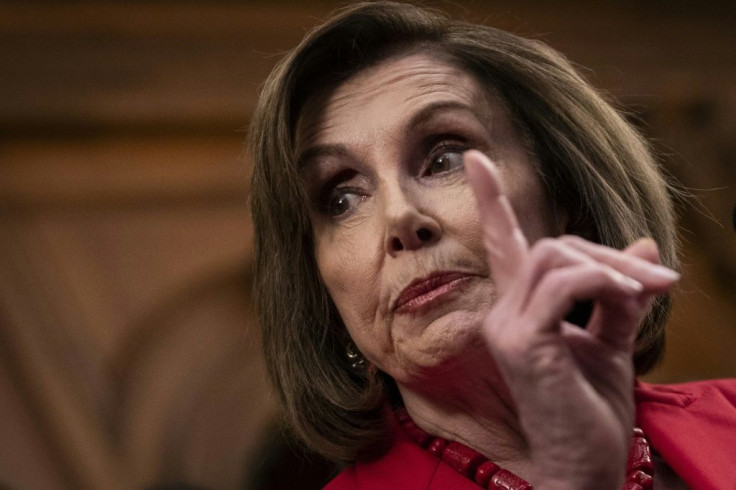 House Speaker Nancy Pelosi, D- Calif., said Sunday that Senate Majority Leader Sen. Mitch McConnell, R-Ky., has signed as co-sponsor on a resolution which would dismiss the Trump impeachment case in the Senate. She said that if the Senate does dismiss the impeachment case, it would amount to a "cover up."
"I'm telling you that [McConnell] signed on Thursday to a resolution to dismiss the case," Pelosi told ABC News' "This Week" anchor George Stephanopoulos. "Dismissing is a cover up."
"If they want to go that route again, the senators who are thinking now about voting for witnesses or not – they will have to be accountable for not having a fair trial," Pelosi continued.
During the interview, Pelosi also left open the possibility that the House may file new articles of impeachment. She also said that the House could subpoena former National Security Adviser John Bolton.
"Let's just see what the Senate does. The ball will be in their court soon," she said.
Pelosi wrote in a letter Friday that she would send the articles of impeachment to the Senate next week. She said that the House would hold a closed-door vote on Tuesday to name impeachment managers.
McConnell has said that he is "glad" that Pelosi is sending over the articles. Pelosi had refused to send over the articles of impeachment until she felt guaranteed that the Senate would hold a fair trial.
Days before the House impeached President Trump, McConnell told Fox News host Sean Hannity that "everything" he does "during this [impeachment process], I'm coordinating with the White House counsel. There will be no difference between the president's position and our position as to how to handle this, to the extent that we can."
McConnell's comments drew the ire of Democrats, who claimed he abandoned his duty be impartial during the impeachment process.
On Saturday, Sen. Lindsey Graham, R-S.C., praised McConnell on Fox News, saying McConnell "stood up to Nancy Pelosi."
"She's not going to run the Senate, she gave in, and I think this hurt her, it undercut the argument that impeachment was about necessity, impeachment is about revenge," Graham said.
Graham said that the Senate impeachment trial would end in days, not weeks, and that Trump would be acquitted of the charges against him.
The House voted to impeach President Trump in December, on two articles of impeachment: abuse of power and obstruction of Congress.
Abuse of power involves Trump's use of the presidency to pressure Ukrainian leader Volodymyr Zelensky to investigate Hunter Biden, the son of Democratic political rival Joe Biden. Obstruction of Congress involves Trump's unwillingness to cooperate with the impeachment inquiry, and his direction to current and former executive branch officials to ignore subpoenas for testimony.
The House impeachment inquiry began on Sept. 24, following an anonymous whistleblower complaint about Trump's interactions with Zelensky.
© Copyright IBTimes 2023. All rights reserved.