Donald Trump Reelection 2020: Will Republican Win Presidency Again In 4 Years? President-Elect Is Vague About Future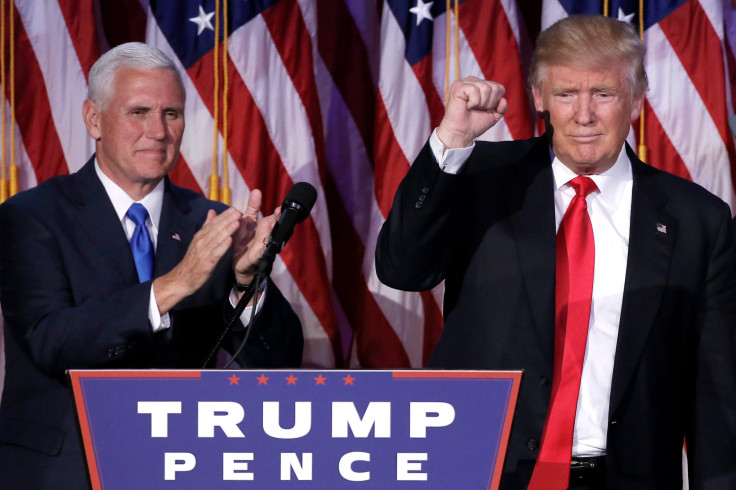 A presidential election that left 85 percent of voters just wanting it to be over may have only just ended, but the stunning nature of Donald Trump's win has already led many to turn their focus toward 2020. For the Democrats, after the crushing nature of Hillary Clinton's loss and seeing the Republicans control both houses of Congress, there is an anguished scramble for a candidate who can bring the party back in four years' time. But there is a question mark for Republicans looking ahead to the election, too.
While in recent times, a president running for reelection is taken as a virtual given, it could be argued that no assumptions can be made about Trump. As a candidate, after all, he was wildly unpredictable and went against all the accepted norms of a presidential election campaign.
In fact, in his victory speech in the early hours of Wednesday morning, he even appeared to suggest that he may not serve out his first term.
"I look very much forward to being your president, and hopefully at the end of two years or three years or four years, or maybe even eight years, you will say, so many of you worked so hard for us but you will say that — you will say that that was something that you really were very proud to do," he said.
Conversely, the 70-year-old has also previously signaled that he very much intends to run again when 2020 rolls around, albeit with an added extraordinary claim.
"At the end of four years, I guarantee you that I will get 95 percent of the African-American vote, I promise you, because I will produce for the inner cities and I will produce for the African-Americans," he said at a campaign event in Michigan in August.
Trump supporter Newt Gingrich, who could now have a role in the president-elect's government, certainly believes Trump will be motivated to go through another election campaign.
"I think he likes being part of a movement — he likes thinking of it as a movement," the former House speaker said in an interview with Politico late last month.
Of course, even if he decides to run that doesn't mean he will earn the Republican Party's nomination, much less the support of a nation in another general election.
Trump's comments on the campaign trail together with leaked audio of him bragging about committing sexual assault led to many establishment Republicans, like former presidents George W. Bush and George H.W. Bush and 2012 nominee Mitt Romney, to distancing themselves from their party's nominee. Even Romney's former running mate, Paul Ryan, currently the highest-ranking member of the Republican Party in his role as House Speaker, gave Trump only a lukewarm endorsement.
Ben Carson, a rival to Trump during the campaign, suggested when explaining his endorsement for Trump that he believes a Trump presidency could be short-lived.
"Even if Donald Trump turns out not to be such a great president… we're only looking at four years," he said in March of this year.
The last three U.S. presidents, and four of the last five, have served two terms, however, in total only 15 of the 43 previous presidents won consecutive elections. While it is true that five of those died during their first term, another five failed to earn their party's nomination. The last serving president not to win his party's nomination was Lyndon Johnson in 1968 when he declined to seek it. While various factors are thought to have played into his decision, he was also suffering from a lack of support within the Democratic Party.
If Trump were to experience something similar, it may not be the end of his 2020 hopes. Three men who failed to win the support of their party have attempted to earn another term as third-party candidate, something that Trump floated this time around if he failed to garner the Republican nomination.
Another 10 former presidents failed to win reelection after getting their party's nomination. The last of those was George H.W. Bush in 1992, meaning that if the same fate befalls Trump he will finally find some common ground with a family he so alienated during his 2016 bid for the White House.
© Copyright IBTimes 2023. All rights reserved.