Donald Trump Struggles To Control 'Twitching' Shoulder, Torso; POTUS Encouraged To Undergo Neurological Evaluation
KEY POINTS
Donald Trump couldn't control his twitching and jerking at Daytona 500
The POTUS sparked new health concerns this week
Donald Trump sparked rumors he could be suffering from Parkinson's
Donald Trump recently sparked new health worries among concerned citizens after he took the stage at NASCAR's 62nd Daytona 500.
During his speech, the POTUS gushed over the race by calling it pure American glory. But contents of Trump's address weren't what triggered discussions among netizens.
Twitter user @TomJChicago uploaded a video of the president talking to the crowds while his shoulder and torso twitches and jerks. With almost every few words, the POTUS's shoulder moves.
Melania Trump, who is standing beside her husband, looked that POTUS when he first twitched and jerked. However, the FLOTUS didn't do anything to attend to Trump.
"Watch Trump's shoulders and torso jerk. Sound off is easier to see with the background as a marker. He's really moving and twitching. Almost quivering. He needs a full neurological eval at a quality center. There is one nearby – the Mayo Clinic in Jacksonville," the Twitter user captioned the video.
According to Political Flare, Trump didn't seem well during his outing. And this isn't the first time that netizens speculated on what could be wrong with him.
"Sound off. Watch Donald's right shoulder twitch. Something's wrong. He is struggling to follow with his index finger, something a POTUS should have memorized by now," Twitter user @PeopleDied2Vote wrote.
"Does Trump have Parkinson's? Sound off and study his shoulder and arm movements," Twitter user @ClaudiaLamb said.
"I think when he lies, which is all the time, he jerks around when speaking. He needs to be removed from office via the 25th Amendment. Tired of seeing him in the media – every day. If the media did not report on him for two weeks, he would finally shut up," Twitter user @bearhill14 said.
Some netizens also criticized the FLOTUS for ignoring the obvious signs that Trump could be in grave danger.
"Don't just watch him – watch her. She's on the brink of tears," Twitter user @MikePrevost3 said.
"What is wrong with the Slovenian? She's hitching and panting," Twitter user @tatergator4021 said.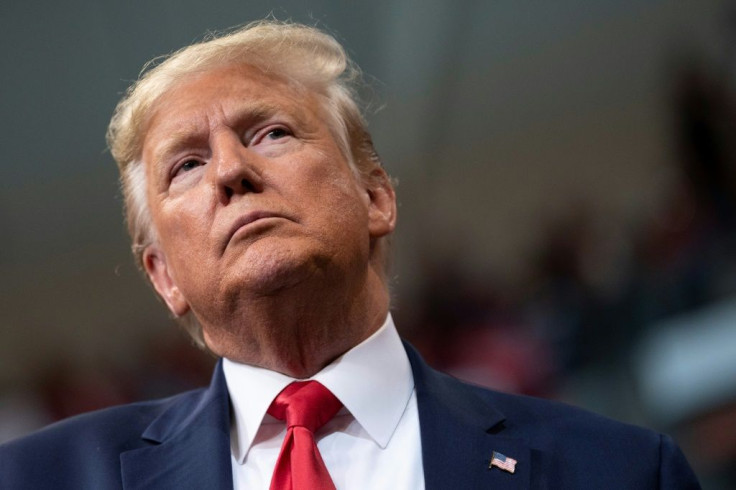 © Copyright IBTimes 2023. All rights reserved.