Donald Trump Suggests He Would Charge CNN $5M For Next GOP Debate Appearance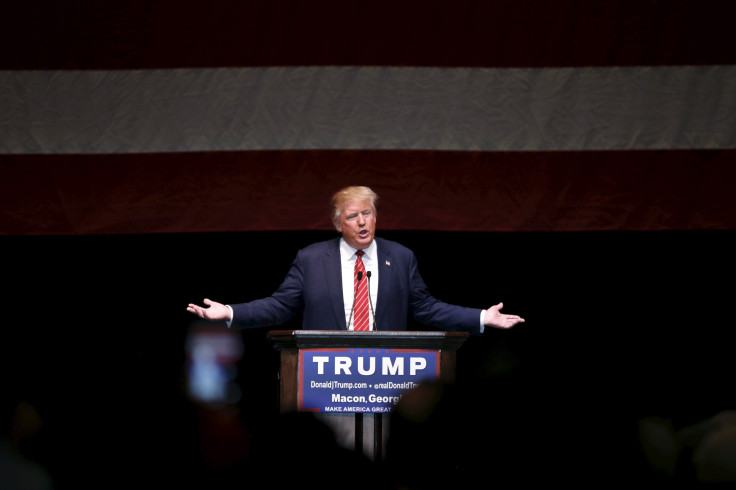 Republican presidential front-runner Donald Trump suggested Monday that he would charge CNN $5 million for his next GOP debate appearance. Trump also said that he has been responsible for increasing the ratings of television networks during presidential debates.
"How about I tell CNN, who doesn't treat me properly ... I'm not gonna do the next debate, okay? I won't do the debate unless they pay me $5 million, all of which goes to wounded warriors or goes to vets," Trump said at a rally in Georgia, according to NBC News.
"The problem is they'll say 'Trump is chicken.' One thing I'm not is chicken, okay?" he told his 5,500-strong audience.
Trump's upcoming debate is scheduled for Dec. 15 in Las Vegas.
This is not the first time the 69-year-old has suggested he would charge for his appearance. Ahead of the GOP debate in September, he said that CNN should pay him $10 million, which he would give away to 10 charities.
Last week, Trump courted controversy by mocking the New York Times reporter Serge Kovaleski. However, he said last Thursday that he did not intend to make fun of the reporter's disability and he did not know Kovaleski.
While talking to his audience in South Carolina on Nov. 21, Trump made spastic movements imitating Kovaleski's arthrogryposis, which impairs arm movements.
"Now the poor guy, you gotta see this guy: 'Uhh, I don't know what I said. I don't remember.' He's going, 'I don't remember. Maybe that's what I said,'" Trump said while flailing his arms. "This was 14 years ago -- they didn't do a retraction."
In a Twitter post, Trump said he was only mimicking "what I thought would be a flustered reporter trying to get out of a statement he made long ago. If Mr. Kovaleski is handicapped, I would not know because I do not know what he looks like."
© Copyright IBTimes 2023. All rights reserved.