Donald Trump's David Duke Problem: Republicans, Democrats Blast Billionaire Over His White Supremacist Supporters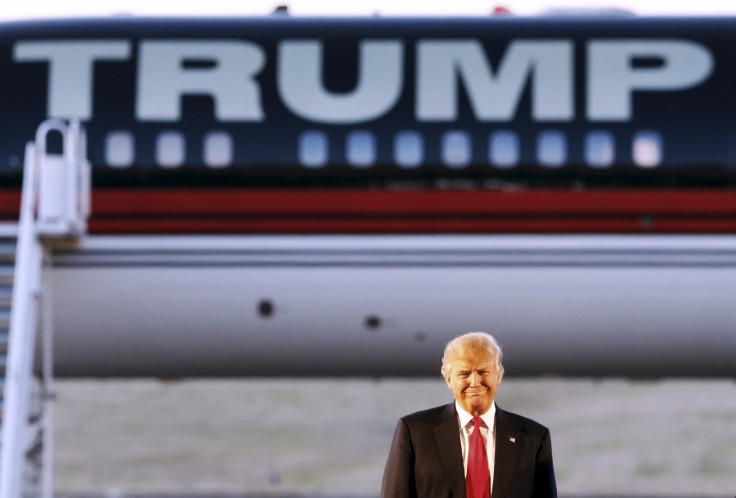 UPDATE: 6:20 p.m. EST -- Republican presidential candidate Donald Trump seemed to avoid bringing up a swirling controversy over the support his campaign receives from white supremacist groups Sunday, in a rally with tens of thousands of supporters in Alabama. Trump has been criticized by his Republican opponent and Democratic rivals for stumbling to disavow the former Ku Klux Klan leader David Duke, who is a supporter.
At the rally in in Madison, Alabama, Sunday afternoon, the GOP front runner reserved most of his remarks for attacking his Republican rivals. Trump, who has double-digit leads over rivals Sen. Ted Cruz of Texas and Sen. Marco Rubio of Florida, was interrupted by protesters at least three times during the event.
"We have to love everybody. All lives matter, remember that," Trump said, as TV cameras showed an African-American being escorted out of the event with his clenched fist in the air.
During the rally, the billionaire real estate mogul appeared with U.S. Sen. Jeff Sessions of Alabama, who endorsed Trump two days ahead of Super Tuesday voting in 11 states. The endorsement could help bolster Trump's support among Tea Party and evangelical voters, who have cited Sessions as the toughest member of Congress in opposition to comprehensive immigration reform, Politico reported. Specifically, Sessions opposes the so-called "amnesty" proposals that would see an estimated 11 million undocumented immigrants receive legal status and a pathway to U.S. citizenship.
Original story:
Both Republican and Democratic presidential candidates seemingly agreed Sunday that GOP front-runner Donald Trump shouldn't be the commander-in-chief if he can't forcefully condemn the Ku Klux Klan and other white supremacist groups whose members have endorsed him. But Trump said he has disavowed support from such groups even though he claimed to be unfamiliar with them in an interview on CNN's "State of the Union."
After claiming he didn't know about infamous former KKK leader David Duke, a supporter, and suggesting he would need to research Duke and other white supremacists before he could condemn them, Trump's Republican and Democratic opponents pounced. U.S. Sen. Bernie Sanders of Vermont was the first on the Democratic side to voice his disapproval of Trump on Twitter and was retweeted by former Secretary of State Hillary Clinton.
Republican rivals Sens. Ted Cruz of Texas and Marco Rubio of Florida perhaps saw an opening to weaken the billionaire real estate mogul ahead critical Super Tuesday contests.
Ohio governor and Republican presidential candidate John Kasich also weighed in Sunday during a campaign rally in Massachusetts. "We don't have any place for white supremacists in the United States of America," he said referring to the controversy surrounding Trump's support among the hate groups. "He really needs to make his position clear and he needs to do it quickly," Kasich added.
Retired neurosurgeon Dr. Ben Carson, who trails Trump and other candidates by very large margins, appeared to be the only Republican White House hopeful who did not make public remarks about Trump's Klan support. Carson is the only African-American in the race.
During his Sunday morning appearance on "State of the Union," Trump claimed not to know about his support among people who openly espouse racist ideology. Duke, who was once the grand wizard of the KKK, told listeners of his radio show last week that not supporting Trump would be "treason to your [white] heritage," the Hill reported.
"I don't know anything about David Duke," Trump said Sunday when asked about the Anti-Defamation League's call for him to disavow the KKK. "I don't know anything about what you're even talking about with white supremacy or white supremacists," Trump added.
Trump continued: "You're asking me a question that I'm supposed to be talking about people that I know nothing about. I have to look at the group. I don't know what group you're talking about," he said. "You wouldn't want me to condemn a group that I know nothing about."
As his interview went viral on social media, the Republican front-runner tweeted he had disavowed Duke and white supremacists. The tweet included a video clip of Trump's response to a reporter asking a question about Duke last Friday.
© Copyright IBTimes 2023. All rights reserved.