Donald Trump's ISIS Plan, Foreign Policy Speech Mocked By Stephen Colbert On 'The Late Show' [VIDEO]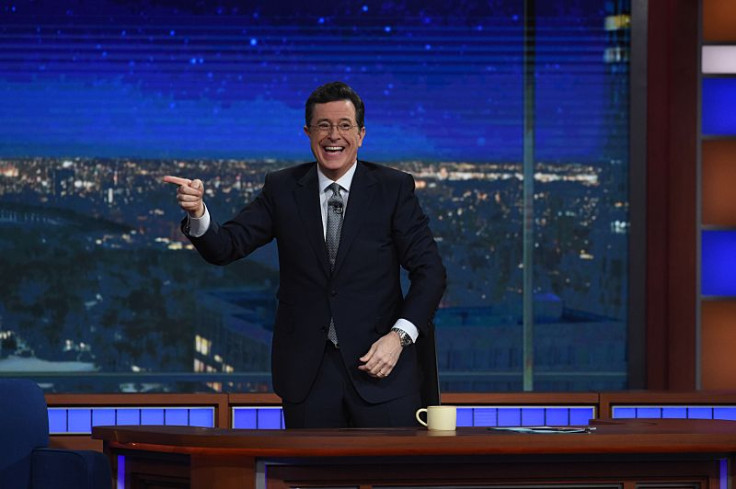 Donald Trump will not tell the Islamic State group his plan to combat the terror organization, but comedian Stephen Colbert is happy to tell Trump what he thinks about the Republican front-runner's secret plan.
Colbert, the host of CBS' "The Late Show with Stephen Colbert," took aim Monday night at Trump's big foreign policy speech last week: a rare teleprompted speech for the candidate. In those remarks, Trump promised to destroy ISIS but would not say how, stressing the need to keep the enemy in the dark and remain unpredictable. Colbert thought that was pretty funny.
When the camera returned to Colbert on Monday's episode of "The Late Show" after playing a clip from Trump's speech, Colbert was nowhere to be found. Taking a cue from Trump's call for unpredictability, the host had vacated his desk.
When he finally returned, the comedian mocked Trump's unorthodox policies.
"Donald Trump wants America to be unpredictable. It's all laid out in his four-point foreign policy plan, 'Lethal Weapon 1' through '[Lethal Weapon] 4,'" joked Colbert, referencing the famous action movie franchise. "As president, Trump is going to convince the rest of the world that you should not mess with America because we are crazy. And there will be ample evidence of that when we elect Donald Trump as president."
Watch Stephen Colbert mock Donald Trump in the clip from "The Late Show" below:
"And then there's ISIS. I have a simple message for them. Their days are numbered," said Trump in his speech on April 27. "I won't tell them where, and I won't tell them how. We must as a nation be more unpredictable. We are totally predictable. We tell everything. We're sending troops. We tell them. We're sending something else. We have a news conference. We have to be unpredictable. And we have to be unpredictable starting now."
Trump could all but secure the Republican nomination with a win in the Indiana primary Tuesday, where there are 57 delegates at stake. Currently, Trump holds a significant lead in pledged delegates with 996 delegates. Cruz is a distant second with 565 delegates while Kasich lags in third with 153 delegates.
© Copyright IBTimes 2023. All rights reserved.