Dongguan Prostitution Raid Prompts Debate On China Sex Trade Decriminalization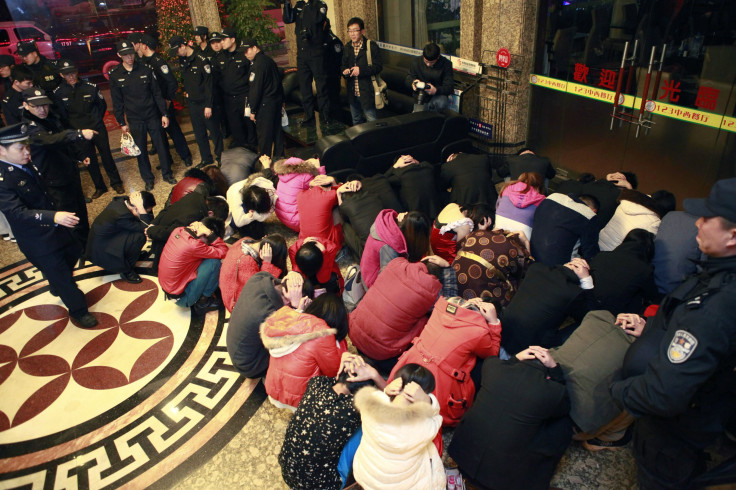 Earlier this week a massive police raid on various establishments in the southern Chinese city of Dongguan put the country's underground sex industry in the spotlight. Known as China's 'sex capital,' Dongguan stands to lose a lot economically if prostitution is shut down, prompting some to consider legalizing the sex trade.
In response to the high-profile police raid of hotels, karaoke clubs, massage parlors, and other businesses in Dongguan and a CCTV nvestigation which featured undercover reporters speaking to business owners, one former official took to his mircoblog on popular website Sina Weibo to bring attention to potentially legalizing prostitution. "I have long advocated the legalization of the sex trade, now is the time," he posted. Wu Jiaxiang is a former official who was imprisoned for three years for his involvement in supporting the Tiananmen Square student protests, and also has been very vocal in the days following the Dongguan raid. The point of most people arguing for legalization is that it would hopefully minimize the degradation of prostitutes, who for the most part are women.
Li Yinhe, a sociologist at the Chinese Academy of Social Sciences, seconded Wu's point of view in a blog post where she claimed the crackdown was futile in eradicating prostitution. She explained that sex workers in Dongguan would simply move elsewhere, adding that the only way the industry could be brought under control was to decriminalize it.
However, not everyone is in agreement. Sima Nan, a prominent television host and writer, argued that legalization was not the answer. "Indian society has legalized prostitution, but its situation in terms of rape crimes is the world's most severe," he said on his Weibo account.
As raids proliferated outside of Dongguan, and into other cities in the area, like Guangdong city, which is located north of Hong Kong, commentary and photos of sex workers during the raid set social media alight.
Speaking to the South China Morning Post, Nicholas Bequelin, a Hong Kong-based researcher with Human Rights Watch, said that the crackdown instigated a lot of unintended consequences. "It's a much more wide-spaced debate about the sex trade than we have seen in the past," he said. "For the first time, there is a debate that includes the possibility of legalizing sex work."
For now, sex work is an administrative offense in China. Workers and clients can face up to 15 days of detention and a fine up to 5,000 yuan ($825).
© Copyright IBTimes 2022. All rights reserved.
FOLLOW MORE IBT NEWS ON THE BELOW CHANNELS