Doria Ragland Outshined Daughter Meghan Markle During Cookbook Launch, Fashion Expert Says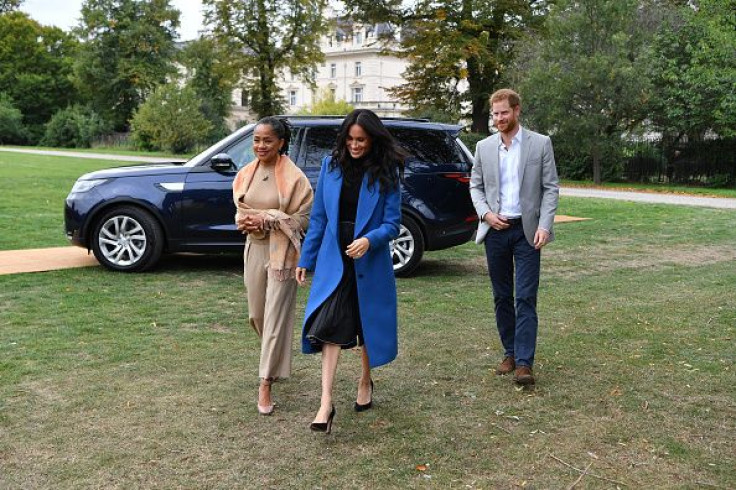 Meghan Markle's mom is as fashionable as her.
Doria Ragland, 62, recently arrived in London to attend a special event. She was spotted at LAX airport over the weekend. It was believed that she would be flying to the UK to support the Duchess of Sussex's first hosting event. And it turned out to be true as Ragland and Prince Harry joined Markle at the launch of her charity cookbook for the Grenfell Tower victims.
For the event, Ragland went casual but chic in a beige sweater, slacks and shawl. She paired the ensemble with ankle-strap pumps. On the other hand, Markle opted for a black tuxe top and matching black skirt by Misha Nonoo. The duchess topped the outfit with a royal blue coat by Smythe and wore a pair of black suede courtshoes with tortoiseshell heels.
Some fashion experts noticed that Ragland stood out during the event. In fact, she seemed to have overshadowed her royal daughter. "I think that her look is classic and eye catching. She 100 per cent stands out more than Meghan, but not in a bad way," stylist and PR expert Rochelle White told Femail. "The colour of the outfit suits her skin tone, her outfit is well tailored, simple and classic."
Celebrity stylist Lucas Armitage also praised the Duchess of Sussex's mom. For him, Ragland knows how to dress up really well. "Doria has shown us why choosing one tone and building an outfit around it makes a chic ensemble," Armitage said.
"Camel is the colour of season as seen in many a catwalk including Victoria Beckham," the expert explained. "The trousers and there box pleat detail perfect flatter her petite frame and choosing the one colour head to toe also elongates her. The fine knit completes the perfect look for her first royal engagement."
Royal fans should note that there's no competition between the mother and daughter. Ragland and Markle have a great relationship. In fact, if there's one person who has never let Markle down, it would be her mom.
"She is the one member of Meghan's family important enough to receive not only an invite to the May 19 vows, but a prime seat near Queen Elizabeth, the relative who would never think to sell her daughter out or reveal private details of her tea with the Queen," Sarah Grossbart of E! News wrote.
Markle previously opened up about her relationship with her mom with Glamour magazine. She revealed that they get along really well and enjoy each other's companionship.
"We can just have so much fun together, and yet, I'll still find so much solace in her support," Markle said about her mom. "That duality coexists the same way it would in a best friend."
Earlier this month, there were reports claiming that Ragland has been taking granny lessons. Markle reportedly wanted to avoid hiring staff when she becomes pregnant and preferred her mom to be around instead.
© Copyright IBTimes 2023. All rights reserved.