Douglas Rivera, Pastor Who Allegedly Assaulted Schoolgirl, Surrenders To Police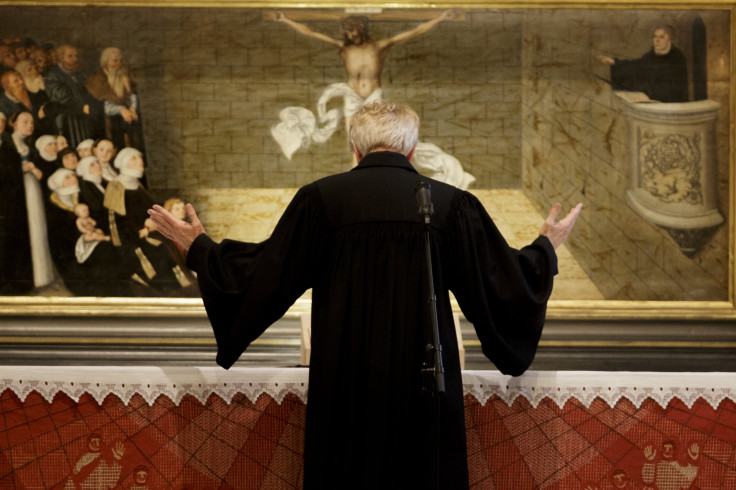 Douglas Rivera, a pastor with God's Gypsy Christian Church in Glendale, California, turned himself in to police Sunday after he was accused of sexually assaulting a preteen. He was out on a bail of $100,000 by afternoon.
The preteen, visiting the United States on a school trip from China, was allegedly molested by Rivera, 40, when she was staying with her friends — all of whom aged between 10 and 12 — at the Vanllee Hotel and Suites, located at 1211 E. Garvey Avenue North, California, CBS Los Angeles reported.
A footage from surveillance cameras placed around the facility showed Rivera parking his vehicle in the hotel's parking lot Wednesday and peering into the room where the schoolgirls were staying. He reportedly masturbated outside the room and then pretended to talk to someone on the phone for the next half an hour.
Rivera then knocked on the girls' door. Thinking it was their chaperone, the girls opened the door, allowing Rivera easy access into the room. According to the police, he proceeded to assault one of the girls.
The pastor was named person of interest in the case after images from the footage was released to the police. Rivera was on a run since Friday, even posting a video on his Instagram page, pleading his innocence. In the video, he said he was simply "at the wrong place at the wrong time."
"I did not do nothing wrong ... Something happened in that hotel, and that's the simple answer," he said in the video. Despite Rivera's claim of innocence, Sgt. Ray Marquez of Covina Police Department said the pastor put the safety of the community at risk.
"There is a public safety concern that we have and, obviously, we hope that with his face being out in the public now, people will be aware of him," Marquez said, ABC 7 reported.
The police raided River's residence in Baldwin Hills, California, on Friday and found a truck similar to the one he was seen parking outside the scene of crime in the CCTV footage. On interrogating the neighbors, the police learned that one of them had witnessed the pastor painting his truck black using a paintbrush and roller.
The police suspected that Rivera was staying with his family or attorney during the period that he was on the run. Accompanied by his attorney, Rivera turned himself in to Covina Police Department at 11 a.m. local time (2 p.m. EST).
He was booked on sexual assault, indecent exposure and burglary charges at the Covina jail. Although detectives wanted to interview the pastor, he denied to submit any such interview – on the advice of his attorney – according to a police spokesman.
He was seen exiting jail on Friday at 2 p.m. local time (5 p.m. EST). Rivera is scheduled to appear in court Feb. 14.
© Copyright IBTimes 2023. All rights reserved.