Dow Jones Industrial Average Plunges As Global Markets Slammed By China Currency Fears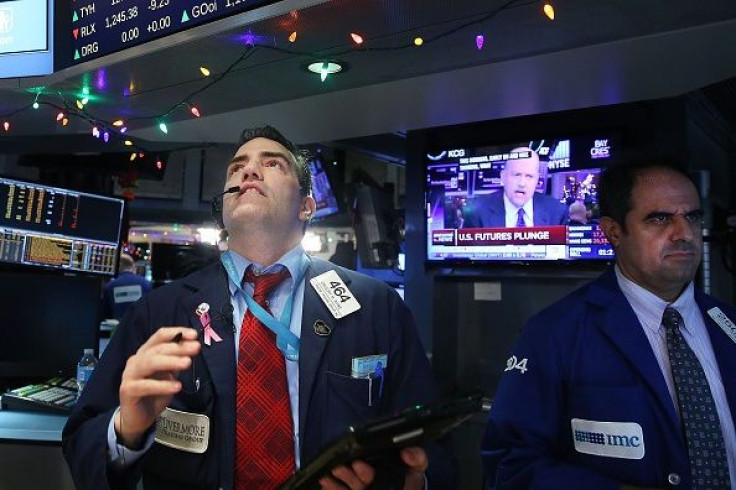 This story was updated at 5:30 p.m. EST.
Concerns about global economic growth sharply increased Thursday after China allowed its currency to depreciate and halted trading on its mainland exchanges for a second time after less than a half-hour of trading. Oil prices continued their plunge and are now down 11 percent for the year so far. U.S. crude settled Thursday at an 11-year low.
The Dow Jones Industrial Average has had the worst start to a year since the index was created in 1928, Reuters reported. Meanwhile, traders braced for Friday as a Chinese policy expert said the People's Bank of China is facing increasing pressure to allow the yuan to fall by as much as 15 percent.
Investors are currently trying to navigate myriad geopolitical situations—from an alleged South Korean nuclear bomb test to Iran-Saudi tensions—and decide how to buy and sell stocks in a world awash with not just oil but nearly every commodity linked to economic activity. Much of these concerns trace back to China, which for the past decade has been the biggest consumer of everything from iron ore to soybeans. And the question investors are asking is how developed markets will adjust to a major correction in China that Beijing seems unable to avoid.
"Markets like certainty; however, the intervention the Chinese keep doing to stop their markets from falling is not helpful," said Kim Forrest, equity research analyst for Fort Pitt Capital Group. "Volatility is clearly back in as well because the artificial support from the Fed is over," she added, referring to rising U.S. interest rates for the first time in nearly a decade. "There's a whole lot of unwinding because of that, which I think is actually good for the markets."
The Dow (INDEXDJX:.DJI) closed the trading session down 392 points, or 2 percent, while the broader Standard & Poor's 500 index (INDEXSP:.INX) lost 47 points, or 2 percent. The Nasdaq composite (INDEXNASDAQ:.IXIC) fell a hefty 146 points, or 3 percent.
All 10 S&P 500 sectors were down Thursday, with the biggest drops in financials and materials stocks. All 30 Dow components were in the red, with the biggest declines from General Electric Company (NYSE:GE) and Apple Inc. (NASDAQ:AAPL).
The yield on the benchmark U.S. 10-year Treasury fell 1.1 percent Thursday as traders sought a safe place to park their money. The bond yield falls when demand for U.S. debt increases. Gold, another safe-harbor investment, edged up 1.57 percent to $1,109.00 per ounce. Gold has gained more than 4 percent since the start of the year.
Global Markets
Major Asian markets closed down Thursday after the China's CSI 300 Index—the benchmark used to determine if newly implemented market "circuit breakers" are triggered—tumbled 7 percent. Both of China's mainland exchanges halted trading at around 10 a.m. local time. Then, hours later, Chinese regulators indefinitely suspended circuit breaker rules that went into effect at the start of the year.
The People's Bank of China allowed the yuan to shed 0.5 percent against the dollar on Wednesday as it attempts to spur exports. The move rattled currency markets and raised concerns about profits from U.S. companies doing extensive business in China that are already grappling with a strong U.S. dollar.
"Concerns about China's economic prospects have rattled investors in the past few days," Andrew Kenningham, senior global economist at Capital Economics, said in a research note. "However, we think China's economy will pick up in the coming months. Overall, the latest economic data do not point to a slowdown in activity, credit growth has accelerated and more policy stimulus is in the pipeline."
China's mainland Shanghai Composite Index lost 246 points, or 7.3 percent, while the Shenzhen Composite plunged 46 points, or 8.1 percent. Hong Kong's Hang Seng dropped 647 point, or 3.1 percent, while Japan's Nikkei 225 shed 424 points, or 2.3 percent.
Major European indexes closed down Thursday. The German DAX dropped 234 points, or 2.3 percent, while the Paris CAC 40 lost 77 points, or 1.7 percent. London's FTSE shed 119 points, or 2 percent.
Oil Prices
Global oil prices settled down Thursday after global crude briefly ticked up from losses earlier in the day.
West Texas Intermediate crude oil, the U.S. benchmark for oil prices, fell 2 percent to $33.97 per barrel for February delivery on the New York Mercantile Exchange, a penny below its last lowest price on Feb. 12, 2004. Brent crude, the global benchmark for oil prices, fell 1.26 percent to $34.23 for February delivery on the London ICE Futures Exchange, its lowest price since June 29, 2004. Prices for both have dropped about 8 percent since the start of the year.
© Copyright IBTimes 2023. All rights reserved.