'Downton Abbey' Fans In The U.S. Can Now Watch Julian Fellowes' New Show 'Doctor Thorne'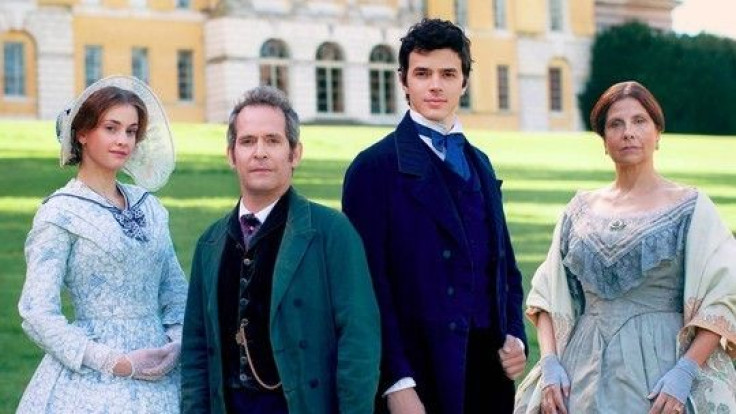 There's a new Julian Fellowes drama headed to Amazon Prime — and it's just as scandalous as his award-winning show "Downton Abbey."
The fresh series, "Doctor Thorne," based on a novel of the same name by Anthony Trollope from 1858, will hit the streaming provider on May 20. The period drama originally aired its premiere in March on the British network ITV.
The three-part television installment, which is Fellowes' first project since "Downton Abbey" aired its series finale in 2015, follows the story of Dr. Thomas Thorne (Tom Hollander) and his "quiet life" with his niece Mary (Stefani Martini) in Greshambury — an English village ruled by Lady Arabella Gresham (Rebecca Front).
Drama ensues when Lady Arabella, whose finances begin to run dry, learns her son Frank (Harry Richardson) is planning to marry Thorne's common-born niece instead of tying the knot with Miss Dunstable (Allison Brie), an American girl with loads of money. Lady Arabella was hoping her son's union with the wealthy newcomer would prevent her from losing her estate … and her power.
Fellowes explained in a press release that "Doctor Thorne" unravels the tangled lives "we humans get into," teasing that things will get extremely complicated for his complex characters.
"'Doctor Thorne's' multilayered storytelling, coupled with an outstanding ensemble cast, is an exciting addition to our lineup," Roy Price, vice president of Amazon Studios, said in a statement to Entertainment Weekly. "Prime members have loved having access to 'Downton Abbey,' making each season a top streamed show on Prime Video since 2011, and we hope to make Prime Video the home for even more of Julian Fellowes' future projects."
Amazon Prime will stream "Doctor Thorne" on Friday, May 20.
© Copyright IBTimes 2023. All rights reserved.