Dr. Seuss Quotes 2017: 10 Inspirational Sayings, Book Excerpts On His 113th Birthday And Read Across America Day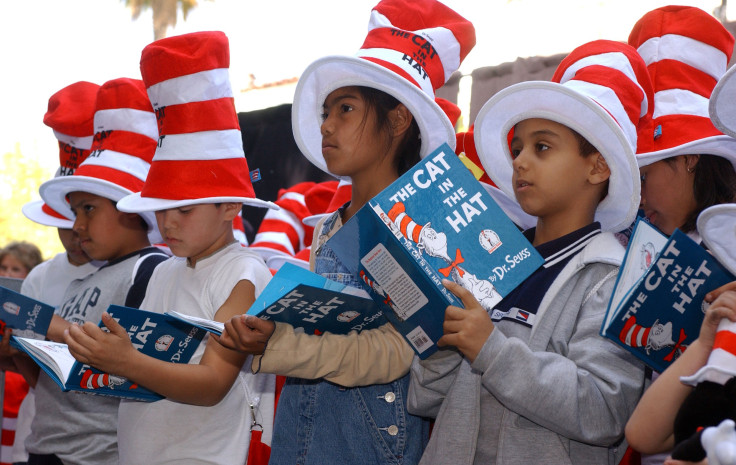 Dr. Seuss, one of the most influential authors of all time, would have been 113 years old Thursday. Born Theodor Seuss Geisel, he gave the world 46 classic works, including some of his best remembered books like "The Cat in the Hat" and "Green Eggs and Ham."
Seuss's birthday is celebrated every year during Read Across America Day when schools throughout the country set aside time to focus on reading. The author died in 1991 at the age of 87, but to celebrate Seuss and his work, some of his most famous and beloved musings are listed below.
"I like nonsense, it wakes up the brain cells. Fantasy is a necessary ingredient in living."
"You're never too old, too wacky, too wild, to pick up a book and read to a child."
"If you keep your eyes open enough, oh, the stuff you will learn! The most wonderful stuff."
Today you are You, that is truer than true. There is no one alive who is Youer than You."

Children read from "The Cat in the Hat" at a ceremony honoring Dr. Seuss with a star on the Hollywood Walk of Fame in Hollywood, California, Mar. 11, 2004.

Getty Images

"And turtles, of course...all the turtles are FREE. As turtles and, maybe, ALL creatures should be."
"Think left and think right and think low and think high. Oh the thinks you can think up if only you try."
"You have brains in your head. You have feet in your shoes. You can steer yourself any direction you choose. You're on your own. And you know what you know. And you're the one who'll decide where to go."
"To the world you may be one person, but to one person you may be the world."
"The more that you read, the more things you will know. The more than you learn, the more places you'll go."
"I have heard there are troubles of more than one kind. Some come from ahead and some come from behind. But I've brought a big bat, I'm all ready you see. Now my troubles are going to have troubles with me!"
© Copyright IBTimes 2023. All rights reserved.