Drake-Meek Mill Feud: Rapper Bang Em Smurf Slams Nicki Minaj's Boyfriend Over Beef, Calls Rick Ross 'A Fraud'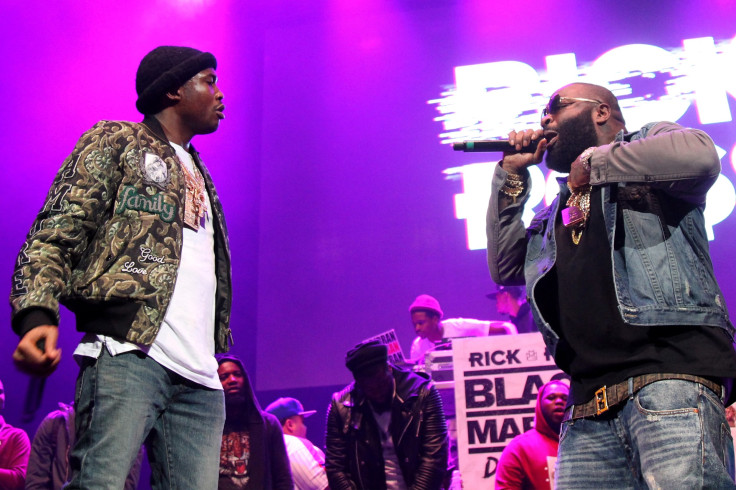 Meek Mill, who has been involved in an ongoing feud with Drake, was slammed by rapper Bang Em Smurf over the way he handled the situation after the Canadian rapper released the "Back to Back" diss track. The former G-Unit band member criticized Mill for losing the rap beef to Drake.
"I think Meek Mill played himself," Smurf reportedly told Mikey T The Movie Star, which provides news in the HipHop community, during an interview. "He instigated a war then he just tucked his tail. Where they do that at? It's only in the MMG camp they do that. Them n----- ain't looking good in these streets."
Smurf also reportedly said that rap fans in the Caribbean are going in on calling Nicki Minaj's boyfriend "2015 Ja Rule." Rapper Ja Rule faced criticism after he lost his feud with 50 Cent, resulting in a decline in his career.
"Even in Trinidad, Meek lost his stripes," Smurf said, according to Urban Islandz. "They're calling him the Ja Rule of 2015."
Mill and Drake's battle erupted on July 21 after the "All Eyes on You" rapper took to Twitter and told people not to compare him with Drake because he doesn't write his own rap songs. Drake responded by releasing two diss songs, "Charged Up" and "Back to Back," while Mill fired back with "Wanna Know."
The feud between the two intensified after some songs in Drake's mixtape with Future allegedly took shots at the "House Party" rapper and Minaj. Recently, reports surfaced that Mill may be recording a diss track for Drake in collaboration with Sauce Walka.
Smurf is not the only one taking a shot at Mill over his feud with Drake. Earlier this month, 50 Cent also mocked Mill during a concert in Sweden.
In a recent video posted on social media, 50 Cent is seen referring to Drake's ongoing battle with Mill, which began after the Philadelphia rapper accused Drake of using a ghostwriter for his songs.
"N---- started the shit," 50 Cent told the Swedish crowd. "It's like you was picking on someone in the schoolyard, and then the m-----------," he continued, before imitating a violent slap-box fight.
50 Cent also reportedly said: "That 'Back To Back' s--- is fire… You didn't hear that s---? That s--- was hot."
Meanwhile, Smurf didn't only aim at Mill but also targeted rapper Rick Ross during the Mikey T The Movie Star interview, according to reports.
"In my eyes, Ross be frauding it. He's an industry n----. These industry n----- are fake," Smurf reportedly added. "I'm not lying for n----- no more. A fraud is a fraud."
© Copyright IBTimes 2023. All rights reserved.