Drake-Meek Mill Feud Update: Miley Cyrus Pokes Fun At Nicki Minaj's Boyfriend While Smoking Up With Tyga In VMAs Skit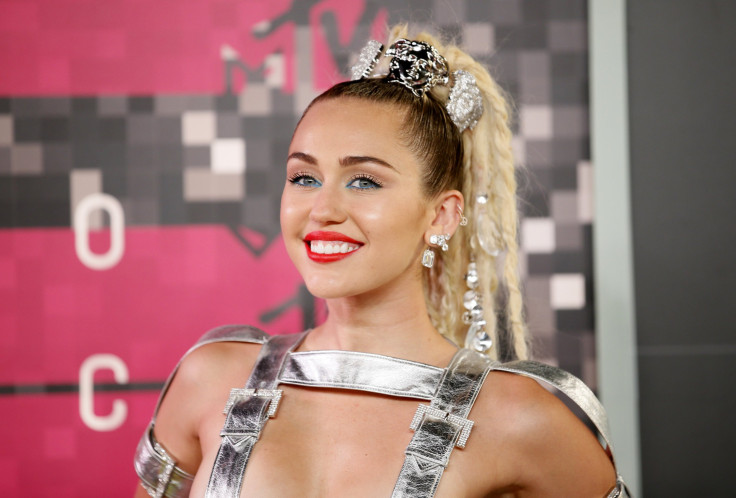 Miley Cyrus mocked Meek Mill over his ongoing feud with Drake, in a skit during the MTV Video Music Awards Sunday. Cyrus was seen smoking marijuana with rapper Tyga in the skit as she made fun of Nicki Minaj's boyfriend for his embarrassing loss to Drake over the diss tracks.
"Let's go TP Meek Mill's house," Miley said, in the skit, according to Hollywood Life. Tyga and other friends did not seem to show interest, following which Miley said: "You're right, he's suffered enough."
Cyrus' dig at Mill came amid the former's ongoing feud with Minaj that began earlier this month. The two recording artists also fought at the award show when the "Anaconda" rapper called Cyrus a "b----" Sunday night.
Minaj took to the stage at the Microsoft Theater in Los Angeles to accept the Moonman for "Best Hip Hop Video." The 32-year-old decided to end her speech by calling out Cyrus.
"Now back to this b---- that had a lot to say about me the other day in the press," Minaj said. "Miley, what's good?"
Cyrus fired back at Minaj, addressing her interview with the New York Times in which she slammed the rapper for not handling her VMA snub well.
"Hey, we're all in this industry," Cyrus responded. "We all do interviews and we all know how they manipulate s---. Nicki, congratu-f------lations."
However, many believe that Cyrus and Minaj's feud on the award show was staged. But an MTV source revealed to Entertainment Weekly the "cat fight" was not planned.
Meanwhile, Mill and Drake began their feud on July 21 after the "All Eyes on You" rapper took to Twitter and told people not to compare him to Drake because he doesn't write his own rap songs. Drake responded by releasing two diss songs, "Charged Up" and "Back to Back," while Mill fired back with "Wanna Know."
© Copyright IBTimes 2023. All rights reserved.