Drunk Passengers Forced Flight To Make Unscheduled Landing, Airline Says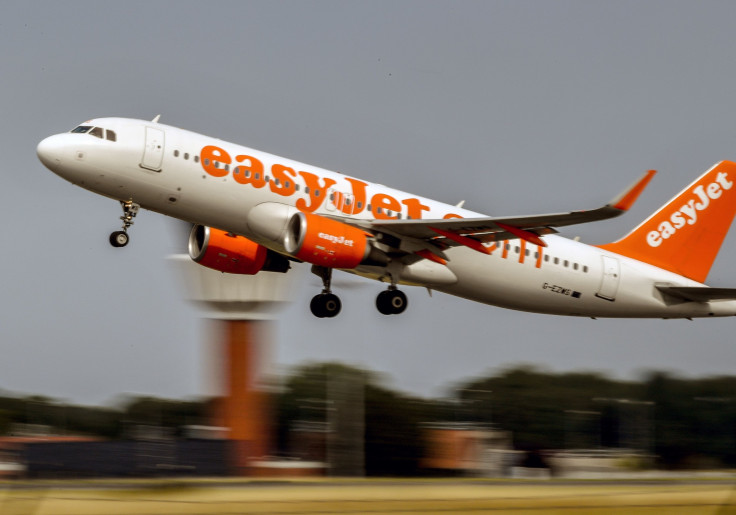 Disruptive passengers riding with EasyJet, a European airline, caused the flight to divert from its original path this week. The flight — which was in route to Paphos, Cyprus, from Edinburgh, Scotland — was diverted because the two male passengers were allegedly drunk.
EasyJet confirmed the news on its website Wednesday that flight EZY6945 would make an unanticipated stop at John Paul II International Airport Kraków–Balice in Poland.
"We're sorry that your flight has diverted to Krakow airport. This is due to a passenger incident, that unfortunately has resulted in your plane having to divert," EasyJet wrote in an update on its website.
READ: Video Of Couple Having Sex On Ibiza-Bound Flight Goes Viral
"We plan to fly you to Cyprus (Paphos) when this incident has been resolved," the second update read. "Your crew will be keeping you up to date on the situation and we also recommend checking back with Flight Tracker for the latest updates."
Polish police reportedly arrested the men when that plane made its unscheduled landing, according to Cyprus Mail. The plane had been flying over Slovakia before making the diversion to remove the passengers. The flight, which was scheduled to land in Paphos at 10:20 p.m., was delayed because of the diversion. It's landing time was subsequently bumped to 1:25 a.m.
"Such incidents are rare, [but] we take them very seriously, do not tolerate abusive or threatening behavior and always push for prosecution," an EasyJet spokesperson told BBC News Thursday. "EasyJet's cabin crew are highly trained to assess and evaluate all situations and to act quickly and appropriately to ensure that the safety of the flight and other passengers is not compromised at any time."
Drunk customers prove to be problematic for airlines. Ryanair, one of Europe's biggest airlines, announced its plans to modify the alcohol limit on airlines Thursday. Ryanair CEO Michael O'Leary told The Independent that drunk passengers pose a "threat to safety."
O'Leary no longer wants airports to serve customers alcohol at airport bars before 10:00 a.m. He also requested that airport bars don't serve customers more than two drinks.
"Nobody wants to be on a flight with a couple of drunks on board creating trouble," O'Leary told The Independent Thursday.
EasyJet isn't the only airline company to have problematic passengers disrupt its flight.
United Airlines had complications with a customer in July. Flight 898, which was heading to New Orleans, returned to its starting location in Houston. The female passenger reportedly began yelling and banging on the plane's walls. Approximately five flight passengers tackled the disruptive customer as she began to sprint towards the cockpit from the plane's back row.
A passenger that boarded Hawaiian Airlines in Honolulu reportedly owed the company nearly $100,000 for his disruptive behavior. The passenger, James August, began behaving disorderly while his plane was still on the tarmac in February. August threatened airline employees, his girlfriend and her children. He pleaded guilty to interfering with flight crew, according to Honolulu Star-Advertiser. August, however, claims to not remember his actions.
A representative from EasyJet did not immediately return International Business Times' request for comment.
© Copyright IBTimes 2023. All rights reserved.