Dubai Diet: Worth Your Weight In Gold, Literally, For Every Pound You Lose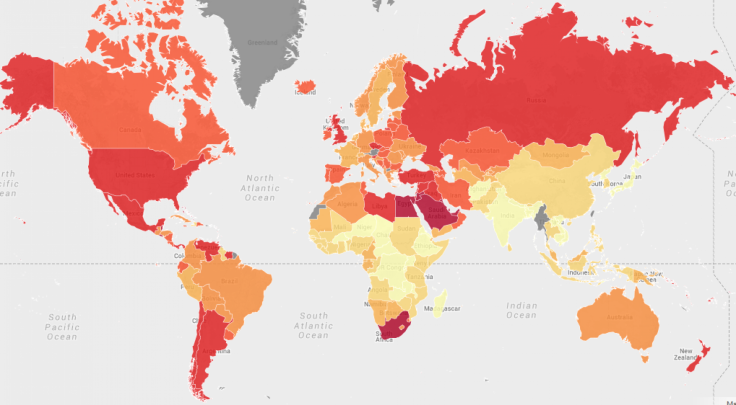 A new diet trend is sweeping Dubai and could be the most successful program to date. The Dubai Diet is a government program that pays individuals to lose weight in gold.
Because of the increasing obesity rates in the UAE, many health campaigns have been launched in the UAE, but Dubai's campaign could be the most successful for individuals looking to lose weight. According to Agence France-Presse, the "Your Weight in Gold" campaign is paying one gram of gold for every kilogram, 2.2 pounds, of weight lost. In order to get paid to lose weight, individuals must lose at least two kilograms, 4.4 pounds, before Aug. 16.
The campaign does run during Ramadan, with its customary fasting from dawn until sunset, but does not mean the program will result in a fortune lost for the municipality. As AFP notes, while individuals cannot eat or drink any liquids until sunset, many Muslims tend to indulge in large feasts after the required fasting.
The health campaign, dubbed "Your Weight in Gold," was established by municipality officials in an effort to reduce the growing obesity rates in the United Arab Emirates. According to the most recent World Health Organization statistics, 30.2 percent of adult males and 43 percent of adult females are considered obese. A 2013 UAE study determined one in three children were obese or overweight with the likelihood of a child becoming obese or overweight increasing as the child gets older. The causes for the increase in obesity rates in the UAE are similar to the reasons for American obesity rates. According to the Associated Press, lack of exercise and poor diet, consisting of fast food, have been cited by officials as causes.
There are rules in place to ensure residents do not try to lose weight in an unhealthy manner. Dubai residents must weigh themselves at public scales where they can also receive advice from dieticians, notes AFP.
In addition to gram of gold, there will be grand prizes awarded to three random individuals. Those who signed up for the weight loss campaign and lost the most weight will have their names put in a lottery. The top three winners could win a gold coin worth 20,000 dirhams, approximately, $5,449, reports Gulf News. Eng Hussain Nasser Lootah, director general of Dubai Municipality, said of the program, "We carry out a number of health initiatives every year to benefit the community, and this year's event aims to encourage adults and children to lose weight and be healthy."
The "Your Weight in Gold" campaign will run from July 19 until Aug. 16, and residents can sign up at any time. An individual's weight will be measured when they first sign up and again on Aug. 16., AP reports, citing local news outlets, and everyone who loses more than two kilograms will be paid a gram of gold and there will be no limit on gold paid to individuals. Individuals would have to lose three kilograms, 6.6 pounds, in a month to earn a gram of gold, worth approximately $45.
© Copyright IBTimes 2023. All rights reserved.
FOLLOW MORE IBT NEWS ON THE BELOW CHANNELS