E3 2015: Gamergate Still Casts A Shadow, But The Gaming Industry Would Prefer That You Forget About It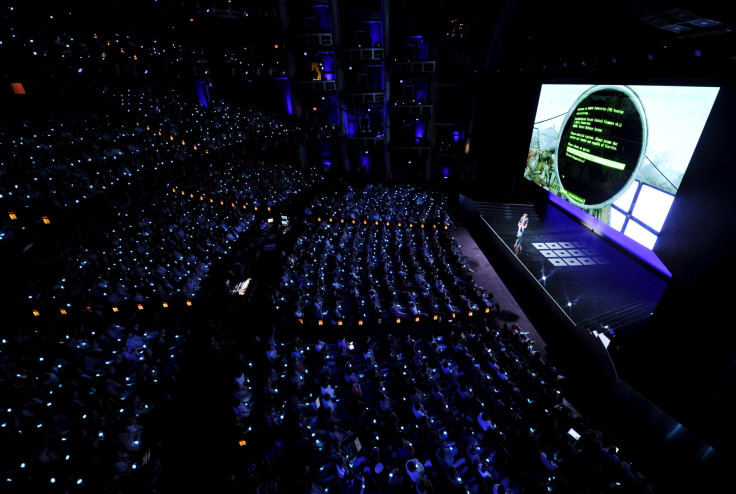 Last fall, a group of gamers organized under the banner of "Gamergate." Ostensibly, the highly visible hashtag movement was intended to expose nepotism in games media, but the group's actions led many to believe it was a thinly veiled excuse to harass women in gaming. Nearly a year later, thousands of gamers are descending on Los Angeles for the Electronic Entertainment Expo, also known as E3, video gaming's largest convention and its first since Gamergate erupted. But don't expect "Gamergate" to be a topic of public discussion.
"Unfortunately the blatant harassment, threats, doxing and swatting behaviors of the Gamergate adherents has negatively impacted a subset of the developer community and it remains a point of discussion," Kate Edwards, the executive director of the International Game Developers Association (IGDA), wrote in an email. "But for the most part it's been background noise within the industry for a while."
But by relegating Gamergate to the past, companies are missing an opportunity to address the problem of gaming being unwelcoming to women, an issue that has persisted for years. The Entertainment Software Association (ESA), the trade group that organizes E3, appears to have made no major moves to make the video game industry's biggest conference more welcoming to women. If anything, the biggest change caused by Gamergate this year is that a few new publications, with an emphasis on "ethics in gaming journalism," will be in attendance.
Last fall, the ESA put out a statement addressing Gamergate, if not by name: "Threats of violence and harassment are wrong. They have to stop. There is no place in the video game community -- or our society -- for personal attacks and threats." As Eric Johnson wrote at the time, the gaming industry could head off some of Gamergate's worst qualities if it only took a public stand and did not hide behind a vague statement from a trade group.
Goodbye, Gamergate
International Business Times asked eight of the biggest game developers presenting at E3, including Microsoft, Nintendo and Electronic Arts, what they've done to ensure that women feel welcome at E3. With only one exception, the companies either did not reply or referred me to the ESA. The unofficial industry policy on Gamergate is to pretend it never existed.
"As the ESA represents the trade association for video game companies, it's natural for them to defer to the organization. However I believe the issue of increasing diversity and inclusion would be better served by all companies being directly vocal and proactive," Edwards writes.
The harassment and lack of women in gaming is not a new issue. As longtime Gamergate nemesis Anita Sarkeesian tweeted last fall, "Gamergate is the new name for a group that has been harassing me for 2 years. All the same users are involved."
Big Frat Party
It's easy to figure out why the gaming industry is a bit of a frat party. Depending on whom you ask, women account for only 14 percent of game designers and programmers. According to a document provided by the ESA, 22 percent of the gaming workforce is female, which is still a low figure, especially compared with a statistic on the same document that says 44 percent of gamers are women. "This becomes a story every year," an Atlus games spokesperson said.
On the other hand, according to the IGDA, 66 percent of developers feel that sexism in games is a problem, and 51 percent think that sexism in the workforce is an issue. "On the industry side, there is ample awareness of the problem and a strong desire to see positive change," Edwards said.
Gamergate supporters are unlikely to crash E3 with flash mobs or Guy Fawkes-masked protests, but their presence will still be felt at the year's biggest video gaming event. A new policy allows vendors to allot passes to "prosumers," or gamers with followings on social media like YouTube. Those passes have allowed at least four publications that emerged from Gamergate to attend E3.
Lewd Gamer, a self-described "sex positive" gaming website, is sending a female journalist to E3. Ryan Caldwell, the site's founder, was involved in Gamergate but says that his site remains neutral on the subject. He believes some companies presenting at E3 have made misguided efforts to include female characters in games.
"Ubisoft said, 'Well, we have much stronger, prominent females in our game.' And the audience that they were trying to sell it to responded negatively," Caldwell said. "Really, it's about pleasing the gamer, the people who actually care about the medium and who are going to buy your game, not those complaining for complaining's sake."
"E3 absolutely works to ensure that all our attendees have a positive experience. We take seriously our Attendee Policy, which helps ensure each person has a productive E3," ESA spokesperson Dan Hewitt wrote in an email. When asked about diversity efforts at E3, he offered a document that generally described a few ESA charity initiatives, like a program that distributes scholarships to women pursuing video game-related degrees.
© Copyright IBTimes 2022. All rights reserved.
FOLLOW MORE IBT NEWS ON THE BELOW CHANNELS