E3 2015 Teasers: 'Plants vs. Zombies Garden Warfare 2,' 'Uncharted 4' And 'Deus Ex: Mankind Divided'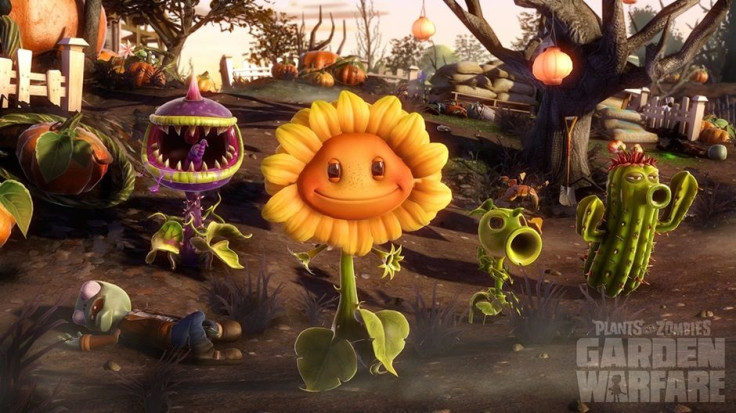 The Electronic Entertainment Expo (E3) is scheduled for June 16-18 in Los Angeles, but some game details have started to leak or be teased before the official event. Three anticipated titles and some updates to a franchise have surfaced.
There's a new teaser trailer coming for "Plants vs. Zombies: Garden Warfare 2." Released by Electronic Arts and PopCap, the trailer, seen below, does not say a lot about what's to come. So it's looking like EA is still saving the best for last during the announcement at E3 2015.
Titled "Get Ready to Soil Your Pants," the teaser states that there will be an exclusive worldwide reveal June 15. Fans hear only the sounds of shooting and some laughing in the background. But considering how the announcement also specified watching the briefing via Microsoft's Xbox One, Spike TV or the official xbox.com website, it's highly likely that the "Plants vs. Zombies" sequel will be timed like its first iteration.
Square Enix Teases 'Deus Ex' Sequel
The new title and sequel to the "Deus Ex" game, dubbed "Deus Ex: Mankind Divided," will be making a splash at E3 2015. This will come in the form of a gameplay reveal, as publisher Square Enix take to Twitter to announce the good news. According to a tweet spotted by DualShockers, fans can expect an in-game reveal June 16. This will happen during Square Enix's conference. The first announcement trailer for the title was revealed in April, where it was also announced that the sequel will be releasing only for next-gen consoles Xbox One, Sony PlayStation 4 and the PC.
'Uncharted 4' Hype Continues
Just as the banners for "Uncharted 4" were brought up at the L.A. Convention Center, where this year's E3 is happening, another new tidbit of information arrives from the game's developer. It seems that fans should catch and savor this year's E3, as it may be the last for "Uncharted" protagonist Nathan Drake. Gamepur reports that Naughty Dog's Neil Druckmann had tweeted that Drake is looking good for his last E3. This tweet sparked speculation among fans, as to whether or not this means the departure or even death of the protagonist. Of course, considering the title, "Uncharted 4: A Thief's End," it won't be a total surprise. However, it's also not a surprise to see fans trained on the title at the gaming show, thanks to the new teaser.
"Plants vs. Zombies Garden Warfare 2" teaser (Credit: YouTube/Plants vs. Zombies)
© Copyright IBTimes 2023. All rights reserved.