Earl Scruggs, Bluegrass Pioneer, Dies At 88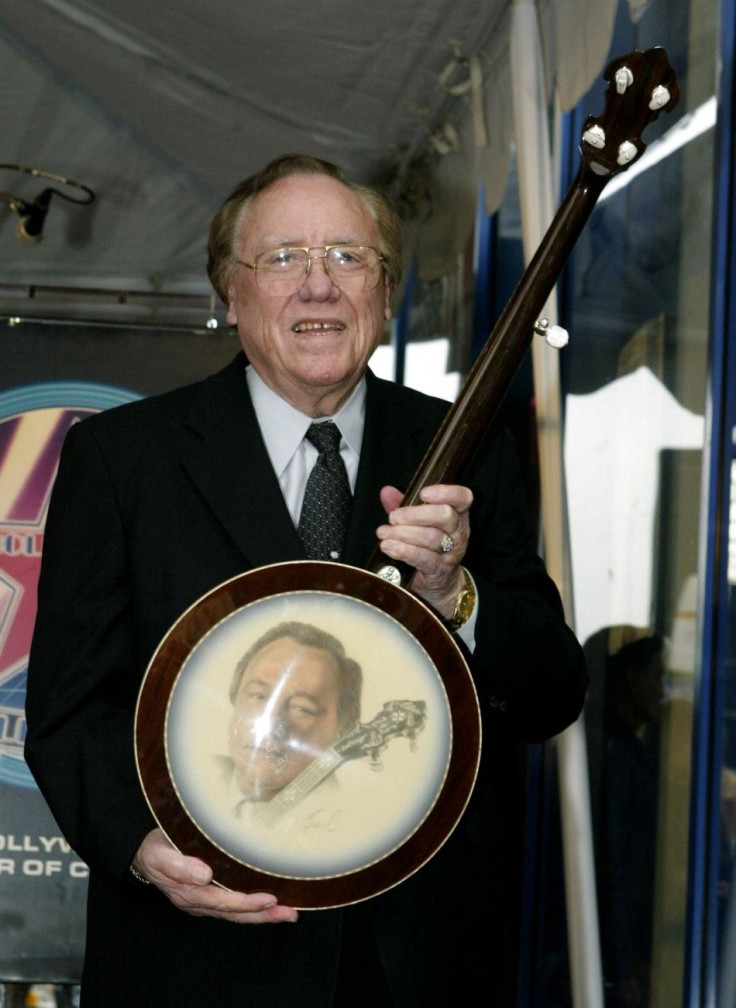 Bluegrass giant Earl Scruggs, a Country Music Hall of Famer, died Wednesday morning at a Nashville, Tenn., hospital. He was 88.
Scruggs popularized a complex, three-fingered style of playing banjo that transformed the instrument, inspired nearly every banjo player who followed him and became a central element in what is now known as bluegrass music.
But Scruggs' legacy ranges beyond bluegrass, a genre he and partner Lester Flatt dominated as Flatt and Scruggs in the 1950s and '60s: His adaptability and open-minded approach to musicality and to collaboration made him a bridge between genres and generations, USA Today reports.
Foggy Mountain Breakdown, recorded with Flatt in 1949, was featured in the film Bonnie and Clyde two decades later. Flatt and Scruggs also played on The Ballad of Jed Clampett, the theme of the Beverly Hillbillies television series.
Scruggs formed the Earl Scruggs Revue, featuring his three sons, after the duo split.
Rather than speak out about the connections between folk and country in the war-torn, politically contentious '60s, he simply showed up at folk festivals and played, at least when he and Flatt weren't at the Grand Ole Opry. During the long-hair/ short-hair skirmishes of the '60s and '70s, he played with Bob Dylan, Joan Baez and The Byrds. And when staunch fans of bluegrass — a genre that would not exist in a recognizable form without Scruggs' banjo — railed against stylistic experimentation, Scruggs happily jammed away with sax player King Curtis, sitar virtuoso Ravi Shankar, piano man Elton John and anyone else whose music he fancied.
Asked about recording with Baez during a time when Baez was viewed by many in Nashville as a dangerous leftist, Scruggs said, Well, I didn't look at it from a political view. And I thought Joan Baez had one of the best voices of anybody I'd ever heard sing.
Earl Scruggs was my inspiration, said Steve Martin, the actor and comedian, Bloomberg reported. Martin started playing banjo as a teenager and recorded a Grammy Award-winning song with Scruggs in 2001.
Before Scruggs came to notice in December 1945 when he joined Bill Monroe's Blue Grass Boys on the Grand Ole Opry, the banjo was as likely to be employed as a clattering comedy prop as it was a serious music-making tool.
Perhaps Scruggs did not invent the technique of striking the banjo strings with three right-hand fingers in a way that produced sounds of far greater intricacy than could be summoned through the then-popular frailing style of banjo playing. But while others in the Carolinas practiced with three fingers, Scruggs perfected and popularized the style.
When a 21-year-old Scruggs auditioned for Monroe, the bandleader heard the final piece in a sound he'd been working to construct. And Scruggs' first performance with the Blue Grass Boys, on Dec. 8, 1945, was the Big Band of Bluegrass, offering a template — guitar, mandolin, upright bass, fiddle and Scruggs-style banjo — still employed today.
During Monroe's performances, Opry boss George D. Hay often introduced Scruggs as the boy who made the banjo talk.
© Copyright IBTimes 2023. All rights reserved.