Economic Events: June FOMC Meeting Minutes, Bernanke Press Conference And Fed QE Tapering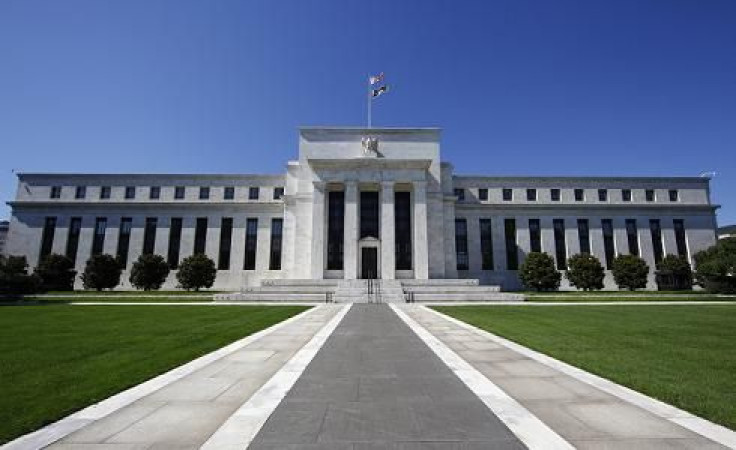 All eyes are now fixed on the U.S. Federal Open Market Committee's two-day policy meeting, which concludes Wednesday. Despite all the tapering talk, Wall Street believes the Federal Reserve will maintain its bond buying -- aka quantitative easing, or QE -- at its current pace.
"We do not expect the FOMC to announce a reduction in the pace of its asset purchases at its June meeting," Nomura economist Aichi Amemiya wrote in a research note to clients, adding that tapering is more likely to occur in September.
Paul Ashworth, chief North American economist at Capital Economics, indicated he also thinks the Fed won't alter its pace of bond buying until the September meeting. "We still expect the asset purchases to be ended completely sometime in the first half of 2014, with short-term interest rates not rising from near-zero until mid-2015," Ashworth said.
In addition to issuing their regular statement, FOMC members will release their updated economic and policy projections Wednesday, all at 2 p.m. EDT, while Chairman Ben S. Bernanke will conduct a post-meeting press conference beginning at 2:30 p.m.
Bank of America Merrill Lynch's Ethan Harris said he expected the FOMC to note that the outlook for the labor market is improving and the downside risks for the economy are diminishing, while reiterating it is prepared to increase or decrease the pace of bond purchases as appropriate.
In the summary of economic projections, most economists are looking for a modest lowering of both the growth forecast and the path of the unemployment rate for this year.
On Friday, the Washington-based International Monetary Fund cut its U.S. growth forecast for 2014 to 2.7 percent from the 3.0 percent predicted in April as it urged the Fed to carefully manage its exit from monetary-stimulus plans.
Regarding the exit strategy, Barclays' Peter Newland noted that Bernanke will likely use the press conference to reaffirm his recent comments that passive balance-sheet runoff at a later date will likely be sufficient to normalize the size of the balance sheet, thereby leading the FOMC to downplay the need for asset sales of agency mortgage-backed securities in its baseline exit-strategy principles.
On the data front, investors should see low core consumer-price-index inflation and continued improvement in the housing data. Existing home sales likely moved above the 5-million mark in May, a level not breached since November 2009.
In Europe, key data releases will be the German ZEW and euro-zone flash PMI surveys. Elsewhere, the Swiss National Bank and the Norges Bank are both likely to leave monetary policy on hold at their meetings Thursday, according to Capital Economics' Jennifer McKeown.
Elsewhere, New Zealand is due to release its first-quarter national-accounts data on Wednesday, and a slowdown there seems inevitable.
Below are entries on the economic calendar for June 17-21. All listed times are EDT.
Monday
8:30 a.m. -- The June Empire State manufacturing index is likely to show a print of 0.0, which would be a modest improvement from the May reading of -1.4. However, this would still leave the index soft relative to other regional manufacturing indices such as the Chicago PMI.
10 a.m. -- After declining for three months in a row at the beginning of the year, homebuilder sentiment increased in May to a level of 44. Economists estimate that the National Association of Home Builders housing market index will increase again in June, by one point, to a reading of 45.
Non-U.S.:
Group of 8 -- G-8 summit in Ireland (to June 18).
Euro zone -- European Central Bank Executive Board Member Joerg Asmussen will speak on the ECB's past, present and future in Magdeburg, Germany.
Euro zone -- ECB Executive Board Member Yves Mersch will participate in a UniCredit economic discussion in Hamburg, Germany.
Euro zone -- Trade balance for April.
Euro zone -- 1Q employment rate and labor cost.
Tuesday
TBA -- FOMC first day of two-day meetings.
8:30 a.m. -- Total consumer prices may have risen by 0.2 percent month over month in May, which would be enough to push the inflation rate up to 1.4 percent from 1.1 percent. The annual core CPI inflation rate will likely hold steady at 1.7 percent. Continued low inflation may be acknowledged by the Fed at its June FOMC meeting, but analysts say these rates are not low enough to prompt a policy response.
8:30 a.m. -- Real earnings for May.
8:30 a.m. -- Economists expect housing starts to jump 12 percent month over month in May, to 955,000 units. Homebuilder sentiment has stabilized in recent months and housing starts will likely stay elevated, compared with previous quarters. Building permits, which are less volatile and serve as a leading indicator of future construction, will likely fall by 3 percent, to 975,000 in May.
11:30 a.m. -- Cleveland Fed CPI for May.
Non-U.S.:
G-8 -- Summit communique issued.
U.S./Germany -- U.S. President Barack Obama will meet German Chancellor Angela Merkel to discuss bilateral and global issues in Berlin.
Euro zone -- ECB President Mario Draghi will speak at Israel Conference in Jerusalem.
Euro zone -- ZEW economic sentiment index for June.
Japan -- Trade balance for May.
Wednesday
7 a.m. -- Mortgage Bankers Association Mortgage Index of mortgage applications for the week ending June 14.
2 p.m. -- FOMC rate decision. Wall Street does not expect policymakers to announce a reduction in the pace of its asset purchases at its June meeting. Most believe this will more likely occur in September.
2:30 p.m. -- Fed Chairman Bernanke holds press conference live via the Fed website following a two-day FOMC meeting on interest-rate policy. Bernanke will probably sound relatively dovish, noting the need for continued Fed policy support and the risks of prematurely ending accommodation.
Non-U.S.:
Euro zone -- ECB Executive Board Member Peter Praet will speak at an economic forum in Brussels.
Australia -- Reserve Bank of Australia Head of Domestic Markets Chris Aylmer will speak in Adelaide.
U.K. -- Bank of England Monetary Policy Committee minutes, bank-rate vote and QE vote.
New Zealand -- 1Q real gross domestic product.
Thursday
8:30 a.m. -- For the week ending June 15, initial jobless claims should climb to 340,000 from 334,000. If the consensus proves correct, the four-week moving average would inch down to 344,250 from 345,250.
8:58 a.m. -- The Markit Flash U.S. Manufacturing PMI probably edged down to 52.2 in June from 52.3 in May.
10 a.m. -- The consensus estimate calls for existing home sales to come in at 5.01 million in May, compared with 4.97 million in April.
10 a.m. -- The Conference Board's index of leading indicators likely rose by 0.2 percent in May, after increasing by 0.6 percent in the prior month.
10 a.m. -- Economists look for a modest improvement in the Philadelphia Fed manufacturing index to -1.0 in June from of -5.2 in May. A subzero June print would be the fourth in the first half of this year.
Non-U.S.:
Australia -- RBA Bulletin.
Switzerland -- Interest-rate announcement.
Norway -- Interest-rate announcement.
Euro zone -- Eurogroup meeting in Luxembourg.
Euro zone -- Flash manufacturing PMI, services PMI and composite PMI for June.
China -- Flash HSBC manufacturing PMI index.
Ireland -- 1Q preliminary GDP.
Friday
10:30 a.m. -- The Weekly Leading Index, or WLI, of the Economic Cycle Research Institute, or ECRI, for the week ending June 14.
Non-U.S.:
European Union -- The Economic and Financial Affairs Council, or Ecofin, will meet in Luxembourg.
Sources: Central banks, European Commission, Reuters, Market News, Capital Economics, Barclays, Bank of America Merrill Lynch, Nomura Securities.
© Copyright IBTimes 2023. All rights reserved.
FOLLOW MORE IBT NEWS ON THE BELOW CHANNELS