Ed Koch, Three-Term New York City Mayor, Dies At 88 Of Congestive Heart Failure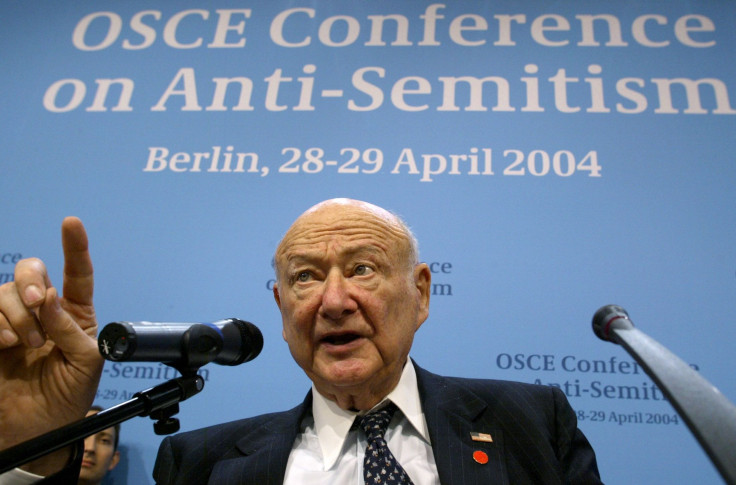 Edward I. Koch, a three-term New York City mayor who led the city's financial recovery in the 1970s, died early Friday morning of congestive heart failure at 88.
The achievements of the Bronx-born Democrat, who was being treated at New York-Presbyterian/Columbia hospital, include replacing the city's patronage appointment of judges with merit selections and launching $5.1 billion in city-funded affordable housing construction to rebuild neighborhoods wiped out by arson, the Wall Street Journal said.
Koch, who was born of Polish-Jewish immigrant parents, was a lawyer and U.S. congressman from 1968 to 1977, when he ran for mayor. He was elected for three terms that lasted until David Dinkins defeated him in a 1989 Democratic primary.
Koch's achievements as mayor included helping the city avert bankruptcy in the late 1970s and facing down the city's transit workers in a 1980 strike that lasted 10 days and resulted in a raise for strikers that was far less than they had sought. His autobiography, "Citizen Koch," was published in 1992.
After his mayoralty, Koch emerged as a strong defender of Israel and a popular radio show host whose political independence was underscored in 2011 when he helped get a Republican candidate elected to Congress.
In this video interview with the New York Times, Koch described his motivation for getting into politics and his infamous feud with former New York governor Mario Cuomo and his son, current New York Governor Andrew Cuomo:
© Copyright IBTimes 2023. All rights reserved.