Ed Murray Net Worth: Seattle Mayor Resigns Over Sexual Abuse Claims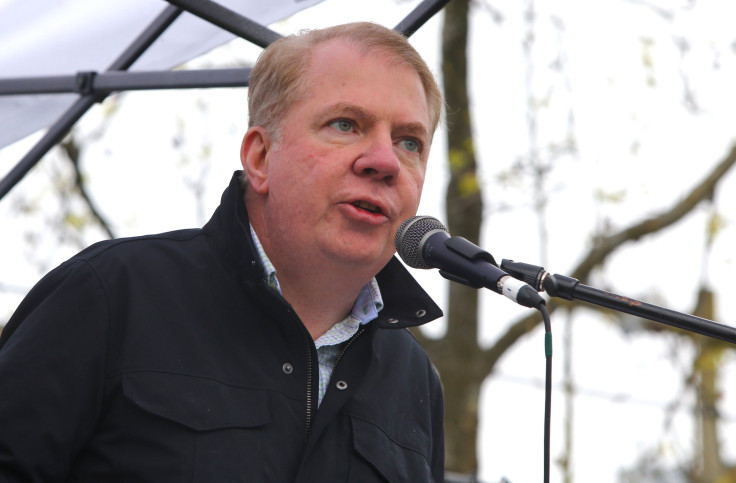 Mayor of Seattle Ed Murray announced his resignation on Tuesday, to be effective from Wednesday 5 p.m. local time (8 p.m. EDT), following accusations of sexual abuse from five men, including a younger cousin of Murray.
Murray has denied all the accusations made against him, stating that all of them are a political conspiracy against him to take him down for practicing progressive politics and standing up for gay rights in his city. According to Heavy, Murray also claimed that some of the claims against him could be motivated by financial reasons.
According to Biz Journals, Murray's annual salary for his governmental post was $175,000, which ranked 11th in the list of mayoral salaries in major cities of the United States. In a personal financial affairs statement filed with the ethics commission, the Seattle City Council Insight, Murray has estimated his own net worth to be 1.8 million.
Murray has maintained that if the people who have accused him of raping them are looking for a payday, they will be disappointed.
"I have no assets, I have no investments and if I lose, everything I have done, everything I have worked for, the most important thing to me — my integrity — it'll be gone," Murray said in an interview with Brandi Kruse at Q13 in April. "My life as I know it will be over at 62. I'll be labeled an unemployable pedophile."
Murray has stated that the latest allegation, made by his cousin, could have been a result of a longtime family dispute running between his and his cousin's families. "There's been numerous fights between our two families for many years, and much ugliness. I guess they see me down and out, and they want to finish me off," he said, the Seattle Times reported.
The cousin has claimed that the abuse started when the both of them shared the same bedroom in his mother's home at the age of 13 and Murray forced him to have oral sex with him on multiple occasions.
"There would be times when I would fake sleeping because I didn't want him touching me," his cousin told the Seattle Times. "And that's when he would molest me. And my mother would be right there in the house, she'd be in the living room … watching TV, at that time it was probably 'M*A*S*H.' And my sisters would be in their rooms, sleeping. And I would be in my room, and he would be in there, molesting me."
Four other accusers, all of whom have a history of drug abuse have come forward with claims that Murray had abused them when they were in their early teens.
Murray had been a Washington lawmaker for 18 years before he was elected to be the Mayor of Seattle in 2014. Since then, he has fought to legalize gay marriage in his state and also played a significant role in the passing of Washington's Anti-Discrimination bill that prohibits ostracizing based on sexual orientation, CNN reported.
In the middle of his mayoral campaign, Murray married his partner, Michael Shiosaki, after 22 years of dating him. The two were determined to get married in their home state and hence, decided to tie the knot a year after the marriage equality law was passed in the state.
After Murray's resignation comes into effect, Council President Bruce Harrell will become mayor of Seattle.
© Copyright IBTimes 2023. All rights reserved.