Election 2016: Ohio Gov. John Kasich Proposes Federal Agency Promoting 'Judeo-Christian' Values Around The World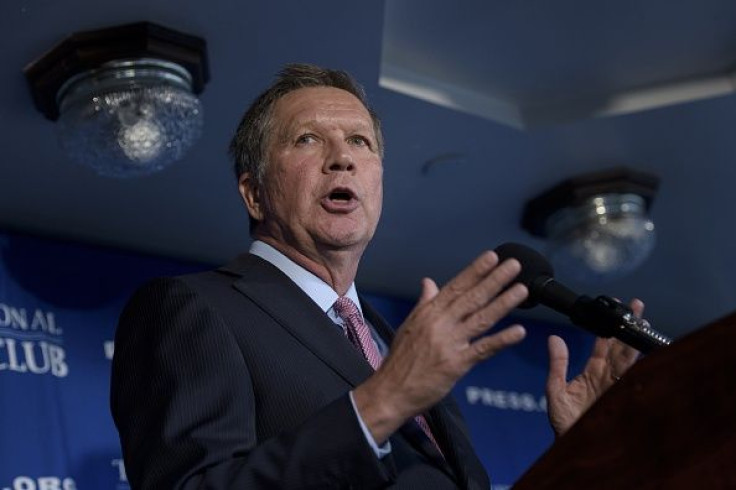 Ohio Gov. John Kasich, a candidate for the Republican Party's 2016 presidential nomination, doesn't believe in big government. But he thinks there's enough room in Washington for a new agency that would promote "Judeo-Christian values" around the world.
Kasich delivered a speech Tuesday at the National Press Club in Washington, outlining his ideas for a national security strategy that would help defeat enemies like the Islamic State group, also known as ISIS or ISIL. Key among them was the creation of a government agency that would serve as an agent of propagating certain values around the world.
"We must be more forceful in the battle of ideas," Kasich said. "U.S. public diplomacy and international broadcasting have lost their focus on the case for Western values and ideals and effectively countering our opponents' propaganda and disinformation. I will consolidate them into a new agency that has a clear mandate to promote the core, Judeo-Christian Western values that we and our friends and allies share -- the values of human rights, the values of democracy, freedom of speech, freedom of religion and freedom of association."
The agency would focus on Russia, China, Iran and the Middle East.
Later Tuesday, in an interview with NBC News, Kasich expanded on his proposal.
"Its job would be fundamentally to revive what we used to do when we beamed messages into the former Soviet Union," he said. "We need to beam messages around the world about what it means to have a Western ethic, to be part of a Judeo-Christian society. It means freedom, it means opportunity, it means respect for women, it means freedom to gather, it means so many things."
Kasich added that promoting such a message is "essential" -- and that those in the West must "embrace again our Jewish-Christian tradition rather than running from it, hiding from it."
When asked about Americans who don't necessarily belong to the Jewish or Christian faiths, such as the many atheists, Muslims, Buddhists and others who live in the "melting pot" that is the United States, Kasich was unflinching.
"I also think that we have many moderate Muslims who share our views. … There are many of them that stand up and speak out and they should be included in this and they'd be a very effective part of this," he responded. "So to support the Jewish and Christian tradition also involves the ability to have tolerance."
© Copyright IBTimes 2023. All rights reserved.