Election 2016: Rick Perry Launches Presidential Campaign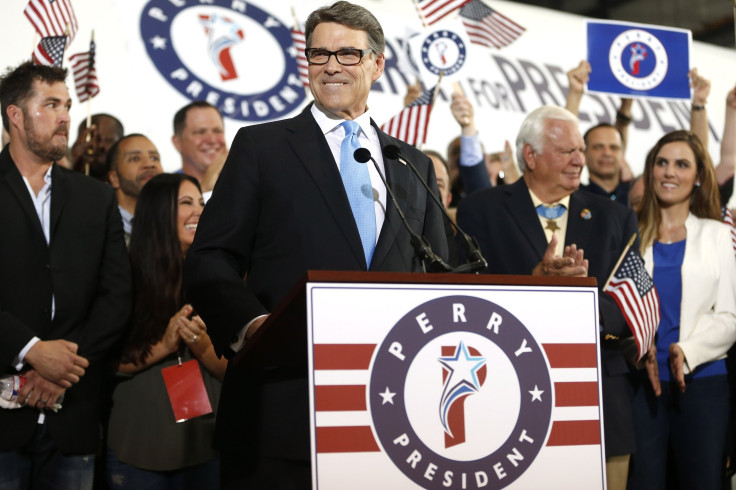 WASHINGTON -- Former Texas Gov. Rick Perry launched his second bid for the White House Thursday, striking a tone of optimism about the future and calling for new leadership. He focused his ire on President Barack Obama -- avoiding criticizing fellow Republican hopefuls or even taking a full swing at Hillary Clinton, as most GOP candidates have done.
"The reason I'm running for president is I know for certain our country's best days lie ahead," Perry said. "There is nothing wrong in America today that a change in leadership won't make happen. We're just a few good decisions away from unleashing economic growth and reviving the American dream." He added, "We have the power to make things new again, to project America's strength again and to get our economy going again. And that's exactly why today I am running for the presidency of the United States of America."
Perry was joined on stage by several veterans, including Marcus Luttrell, the former Navy SEAL whose book "Lone Survivor" became a blockbuster movie. "He is not just the 'Lone Survivor,' to me he is a second son," Perry said. Also there to endorse him was Taya Kyle, widow of "American Sniper" Chris Kyle, another Texan.
Perry jabbed strongest at Obama, blaming his economic policies for stagnant wages and slow economic growth. "We are at the end of an era of failed leadership," Perry said. "Six years into this so-called recovery, and I may add our economy is barely growing."
Perry also blamed Obama for the spread of the Islamic State movement. He said Obama has allowed the extremist group to grow by being weak on the international stage. "No decision has done as much hard as President Obama's decision to withdraw troops from Iraq," Perry said. "America had won the war, but our president had failed to secure the peace."
Perry called the rise of ISIS "a national disgrace" because Obama didn't fight. "Cities once secured with American blood are now being taken by American enemies all because of a campaign slogan," Perry said. He said the United States shouldn't retreat. "We don't have to apologize for American exceptionalism or Western values," Perry said.
Perry, who served a record three and a half terms as Texas governor, is making his second bid for the presidency. In 2012, he was unable to find much momentum. His campaign attributed his inability to galvanize voters and constant criticism that he looked tired and unengaged on a back injury. Perry was taking pain medication for the back problem.
This time he enters a much more crowded campaign field. In his last bid, the field consisted of about 10 candidates. This time Perry will be one of perhaps 20. And in 2012, he was distinctive for still holding office. Now, Perry has left the governorship in Austin and will be competing against several sitting governors and members of the Senate.
Perry will distinguish himself in the Republican field for having a more open approach to immigration, a view that is fueled by his role as a border governor. He has said it's unrealistic to send all of the immigrants in the nation illegally back to their homelands.
Since his last campaign, Perry has also faced accusations that he misused the governor's office. In August 2014, Perry was indicted for abuse of power by a federal grand jury. But his camp has tried to turn that into a positive, arguing that the indictment was politically motivated.
© Copyright IBTimes 2023. All rights reserved.