Election 2016: San Antonio Police Officers In Trouble For Donning Donald Trump Campaign Hats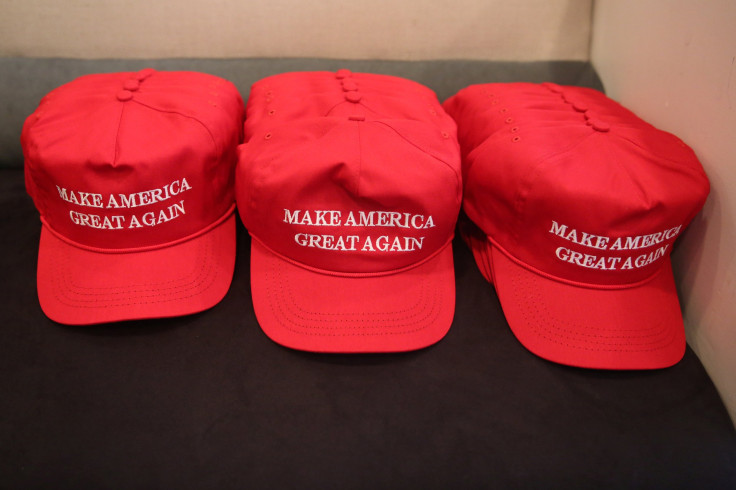 Over a dozen officers from the San Antonio Police Department (SAPD) violated city policy Tuesday when they donned Republican U.S. presidential candidate Donald Trump's red campaign hats while on duty. The officers were part of a motorcycle unit that escorted Trump's motorcade to and from the San Antonio International Airport.
The real estate mogul posted a short video on his Twitter page Tuesday that showed the officers in their uniforms, which included the motorcycle unit patch. Many officers were seen in their tall, black riding boots as well. In the 25-second video, Trump is heard thanking the officers while they are sporting his red campaign baseball cap that reads "Make America Great Again."
"The officers wearing the campaign hats while in uniform violated SAPD policy and will be disciplined appropriately," Police Chief William McManus said in a statement on the city's Twitter page. "The officers displayed poor judgment. I expect them to know better than to give the appearance of endorsing a candidate while on duty and in uniform, regardless of the political campaign or the candidate."
Mayor Ivy Taylor reportedly said she was deeply disappointed over the incident.
Mike Helle, president of the San Antonio Police Officers Association, said such political activity while on duty is prohibited. "You can't do that kind of stuff while on duty," he reportedly said.
Helle added that officers escort dignitaries all the time and said he was surprised they chose to wear the campaign hats. "It seems kind of benign," he said. "They'd probably get a written reprimand or counseling to not do that sort of thing on duty."
© Copyright IBTimes 2023. All rights reserved.