Election 2016: Supreme Court Gay Marriage Ruling Could Change Campaign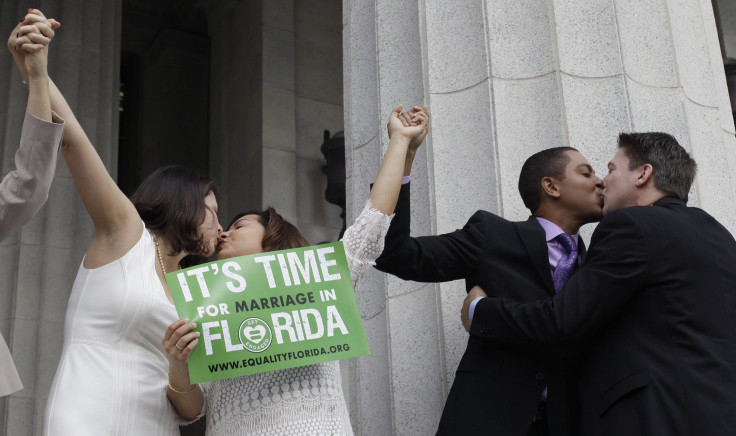 WASHINGTON -- The Supreme Court could hand Republicans a ruling that takes gay marriage out of the political debate for 2016 and eliminates an issue that has hurt them in general elections. The court announced Friday that it will hear a challenge to bans on same-sex marriage in April and will likely make a ruling in June, months before the 2016 campaigns really get rolling.
Court watchers predict the nation's top judges will uphold the series of appellate court rulings that have legalized gay marriage across the nation. If they don't, the status quo will likely remain in terms of the political debate. Most Democrats will continue to campaign in favor of legalization and Republicans will defer to the states, saying the federal government shouldn't intervene.
But if the court strikes down same-sex marriage bans across the nation, in line with its 2013 ruling ending the Defense of Marriage Act, the decision could reverberate in politics for the next year. Instead of engaging in debates about the merits of gay marriage, GOP candidates could take a more neutral position on the issue, saying that the court has spoken and there is little they can do to stop it.
There are already signs that the 2016 field of GOP candidates is beginning to shift on the issue. After gay marriage became legal in Florida earlier this month, Jeb Bush, the state's former governor who is actively building a 2016 campaign, was asked about the ruling. Bush told the Miami Herald, "It ought be a local decision. I mean, a state decision."
But he quickly released an official statement that could be the same type of response he would use in a national campaign, a more conciliatory position that expresses acceptance without enraging the conservative base. "We live in a democracy, and regardless of our disagreements, we have to respect the rule of law," Bush said. "I hope that we can also show respect for the good people on all sides of the gay and lesbian marriage issue — including couples making lifetime commitments to each other who are seeking greater legal protections and those of us who believe marriage is a sacrament and want to safeguard religious liberty."
Some of the most socially conservative candidates could try to pull other GOP candidates to the right during the primary by demanding they back constitutional amendments to reverse the court. But Republicans worried about losing general election votes could take a page from anti-abortion Democrats who would say they were personally opposed to abortion but wouldn't try to reverse the Supreme Court ruling. And unlike the response to the Roe v. Wade decision that legalized abortion and created strident opponents in the GOP, polls show that a majority of Americans, including Republicans, increasingly support gay marriage.
Gay marriage has been cited as one of the social issues costing the GOP votes, and there has been a push by the party establishment to move away from social issues. Democrats have worked to build support from gay voters by arguing they are the only party that will help the marriage-equality movement -- even though it wasn't until very recently that the party fully hopped onboard. President Barack Obama didn't endorse same-sex marriage until 2012. But if the question is settled by the courts, Democrats could lose one of their sales pitches, and voters who feel strongly about gay marriage could find they are willing to give Republicans a second look.
Republicans may also find that gay marriage is losing its strength as a social litmus test in GOP politics. Younger generations are largely embracing the move toward legal same-sex marriage. The Pew Research Center found 61 percent of young Republicans support gay marriage.
If they're looking toward the national electorate, Republicans also will find fewer voters who oppose gay marriage. Gallup polling found that 55 percent of Americans think gay marriage should be legalized. That's a big jump from earlier numbers, which found in 1996 that only 27 percent favored legalization. In 2008, support for gay marriage was still below majority at 40 percent.
Prominent Republican political leaders are starting to change their position as well. Ohio Republican Sen. Rob Portman made a splash when he announced his support for gay marriage in 2013. He was followed by fellow Republican Sens. Susan Collins of Maine, Mark Kirk of Illinois, and Lisa Murkowski of Alaska, as well as Rep. Charlie Dent of Pennsylvania.
Former President George H. W. Bush was an official witness for a gay marriage in 2013. His daughter-in-law, former first lady Laura Bush, also expressed support for marriage equality. Former Vice President Dick Cheney, whose daughter Mary is gay, favored gay marriage. And former Utah Gov. Jon Huntsman, who was a GOP candidate for president in 2012, has endorsed gay marriage.
FOR FREE to continue reading
✔️ Unlock the full content of International Business Times UK for free
offer available for a limited time only
✔️ Easily manage your Newsletters subscriptions and save your favourite articles
✔️ No payment method required
Already have an account?
Log in
© Copyright IBTimes 2023. All rights reserved.