Election 2016: Ted Cruz, Marco Rubio Are Traitors To Hispanics, Activists Say Of Cuban-American GOP Presidential Candidates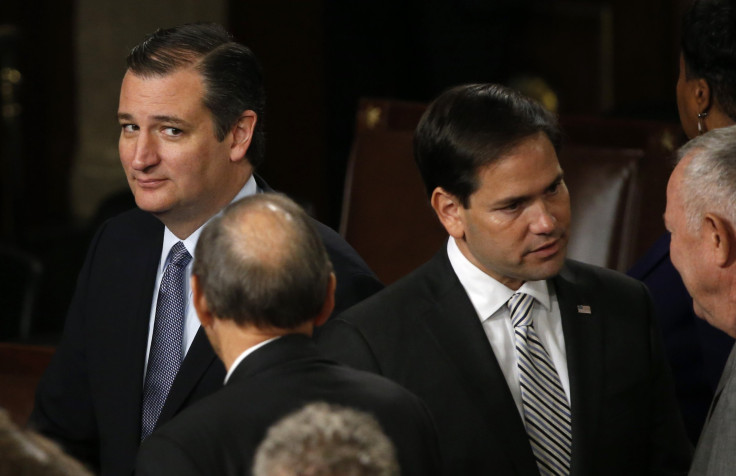 Liberal Hispanic groups have launched a campaign with the goal of turning Latino voters against Republican candidates Sens. Marco Rubio and Ted Cruz, both Cuban-Americans, accusing them of being traitors against their own culture, the Washington Post reported Monday. Hispanic leaders in swing states are using radio and online ads, social media posts and public discussions to accuse the GOP contenders of fighting against changes Latinos support, including immigration reform and a minimum wage increase.
Both Cruz and Rubio have touted their heritage in an attempt to woo Hispanic voters, who are largely Democratic but tend not to hold strong partisan views.
"It's not comfortable for us to do this, to call out members of our own community who don't reflect our community values, but we have no choice," said Cristóbal Alex, president of the Democratic Party-backed Latino Victory Project, the Washington Post reported.
At a gathering in Nevada of Democratic Hispanic leaders Monday, photos of Texas' Cruz and Florida's Rubio were featured alongside pictures of rival GOP candidate Donald Trump, and all three were condemned as being anti-Latino. Dolores Huerta, an influential labor leader and civil rights activist, also called Cruz and Rubio "sellouts" and "traitors" at the gathering, saying those candidates "are turning their backs on the Latino community."
RCP Poll Average for Top 5 Republican Presidential Candidates | InsideGov
"While Trump continues to grab headlines with his hateful anti-Latino, anti-immigrant language, the positions and records of the two Latino presidential candidates in the race are equally dangerous for Nevada communities," a press release from the Nevada leaders noted, the Washington Post reported.
Prior to the fifth Republican debate Tuesday night in Las Vegas, Trump is still leading the polls despite calling Mexican illegal immigrants "rapists" this year. Cruz recently surged to first place in the Iowa caucuses and second nationally, and Rubio has typically polled in the top three nationally.
"They are a huge threat to the Latino left," said Daniel Garza, executive director of the Libre Initiative, a group that aims to build conservative support among Hispanics, the Washington Post reported. "Oh, man, you are going to see the aggressiveness ramp up because they are a genuine threat to increasing the percentage of the Latino vote if they win."
© Copyright IBTimes 2023. All rights reserved.