Election 2020 Poll: Biden Didn't Get A Boost From Democratic Convention
KEY POINTS
The Democratic National Convention didn't boost Biden's poll lead over Trump, a new poll shows
Biden remains his advantage over Trump by 47% to 40%, roughly the same margin before the DNC
Biden leads Trump among African-Americans, 71% to 9%
In a departure from past political campaigns, the Aug. 17-20 Democratic National Convention didn't give nominee Joe Biden the expected bounce in popular support among registered voters.
The Reuters/Ipsos poll, taken Aug. 19-25 and released Wednesday, represents a marked change from a trend apparent in past election cycles. Hillary Clinton, for example, received a 4% jump after the DNC in 2016. Trump saw his support also improve by four percentage points after the 2016 RNC.
Pollsters believe one reason Biden stayed flat is because partisanship has hardened support for each candidate to such an extent that no significant shifts should be expected. The fact DNC was a virtual convention without cheering crowds might also have had something to do with the tepid reaction.
There also appears to be fewer undecided voters in the 2020 election. The poll shows only 14% of registered voters supporting neither Biden nor Trump compared to the 22% that were similarly undecided at this time in 2016.
The Reuters/Ipsos poll, however, did see Biden maintain his seven percentage point lead (47% to 40%) over Trump. This margin is similar to the advantage Biden held before the conventions.
The poll showed Biden's traditional advantages over Trump remain strong. Seventy-one percent of African-Americans will vote Biden compared to only 9% whosupport Trump. African-Americans have remained Biden's largest and most reliable voting bloc.
Biden's edge over Trump among African-Americans in August jumped 6% compared to July after Biden selected Sen. Kamala Harris of California as his running mate. Harris is the first woman of color in history to contest the vice presidency.
Biden leads Trump among suburban voters, 44% to 36%, but Biden's new number is four percentage points lower than in July. Analysts said Trump's message presenting Biden to women suburbanites as a threat to their lifestyle seems to be resonating.
Also in Biden's favor is Trump's dismal approval rating. The poll shows 55% of registered voters disapprove of the job Trump is doing as president compared to the 41% who responded otherwise.
Poll respondents also consider Biden the stronger candidate when it comes to dealing with the COVID-19 pandemic and restoring trust in government. As in most other major polls, Trump's biggest edge over Biden comes in managing the economy. The Reuters/Ipsos poll shows voters see Trump as superior to Biden when it comes to the economy.
In contrast to Reuters/Ipsos, the CBS News Battleground Tracker/YouGov poll taken Aug. 20-22 shows the DNC boosted Biden's favorability by 5%.
Before the DNC, 82% of Biden's supporters "very strongly" backed him. This number jumped to 87% post-DNC. DNC also shifted some of Biden's voters' rationale for backing him. This poll showed respondents are more likely to vote for Biden because they like him and dislike Trump.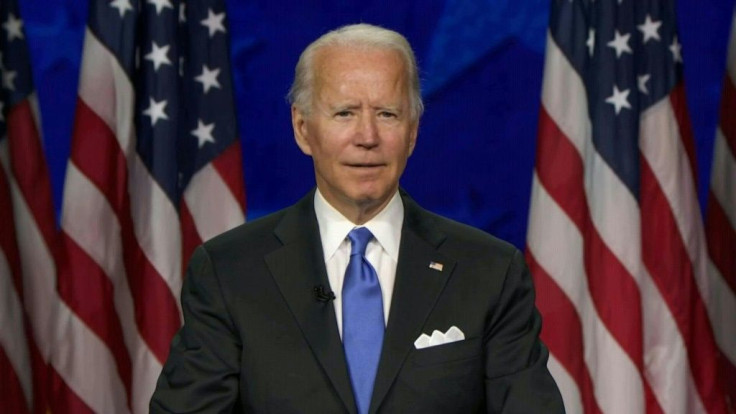 © Copyright IBTimes 2023. All rights reserved.