Election 2020: Trump Adviser Admits Voter Suppression Is 'Traditionally' Part Of GOP Strategy
KEY POINTS
Trump adviser admits voter suppression is "traditionally" part of the Republican Party's strategy to compete in battleground states
The GOP will likely resort to this traditional tactic to win Wisconsin, Michigan, and Pennsylvania
Wisconsin Governor Tony Evers said the GOP's planned voter suppression "is bad for our democracy"
Republicans plan to resort to their traditional tactic of voter suppression to ensure the reelection of president Donald Trump in 2020, according to one of Trump's top reelection advisers, who also admitted voter suppression is the way the GOP wins key elections.
Justin Clark, a senior political adviser and senior counsel to the president's reelection campaign, was recorded as admitting voter suppression is "traditionally" part of the Republican Party's strategy to compete in battleground states. Clark spoke on the subject before a gathering of the Republican National Lawyers Association's Wisconsin chapter on November 21. Wisconsin is one of three key battleground states Trump has to win to be reelected.
"Traditionally it's always been Republicans suppressing votes in places," Clark told the Republican lawyers in the audio recording,
"Let's start protecting our voters. We know where they are … Let's start playing offense a little bit. That's what you're going to see in 2020. It's going to be a much bigger program, a much more aggressive program, a much better-funded program."
Clark also talked about GOP strategies for the 2020 presidential election at the private event. He revealed one GOP strategy will be to attack the so-called "blue wall" of traditional Democratic strongholds in Wisconsin, Michigan, and Pennsylvania. He pointed out Trump was able to break through that "wall" to win in 2016. The GOP sees these three states as key to Trump winning the 2020 election, as well.
The 20 minute-long audio recording was obtained by the liberal group American Bridge and provided to the Associated Press by One Wisconsin Now, a non-profit, non-partisan issue advocacy organization based in Madison.
"If there's bad behavior on the part of one side or the other to prevent people from voting, this is bad for our democracy," said Wisconsin Governor Tony Evers, a Democrat, in reaction to Clark's comments. "And frankly, I think will whoever does that, it will work to their disadvantage. It will make them look, frankly, stupid."
Democrats and Trump critics say Clark's admission to using voter suppression means the GOP will have no compunction in breaking the law to ensure Trump's reelection. Clark's comments suggest the Trump campaign plans to engage in "underhanded tactics" to win the election, alleges Mike Browne, deputy director of One Wisconsin Now.
"The strategy to rig the rules in elections and give themselves an unfair partisan advantage goes to Donald Trump, the highest levels of his campaign and the top Republican leadership," said Browne, noted AP. "It's clear there's no law Donald Trump and his right-wing machine won't bend, break or ignore to try to win the presidency."
Democrats are also sounding the alarm the GOP might resort to widespread voter intimidation in 2020. They point out the 2020 election will be the first time since 1982 in which the Republican National Committee (RNC) will be allowed to engage in "poll monitoring." The RNC has always claimed its poll monitoring are "ballot security" measures while the Democrats contend it's a pretext for voter suppression and intimidation.
In 2018, a judge lifted the consent decree preventing the RNC from engaging in several types of what it calls "ballot security" measures. The consent decree was emplaced after the Democratic National Committee (DNC) sued the RNC for helping intimidate black voters in New Jersey's election for governor. During this election, the RNC and the state GOP posted off-duty police wearing armbands that read, "National Ballot Security Task Force," at polling places in urban areas. Some of these men carried guns.
Clark said the new rules will allow the RNC to use its multi-million dollar budget for poll monitoring and coordinate with other Republican groups on Election Day.
He also tried to walk back his incendiary comments after these were revealed in the media.
Clark claimed his point was that Republicans historically have been falsely accused of voter suppression "and that it is time we stood up to defend our own voters. Neither I nor anyone I know or work with would condone anyone's vote being threatened or diluted and our efforts will be focused on preventing just that."
Clark was formerly director of public liaison and director of intergovernmental affairs at the White House.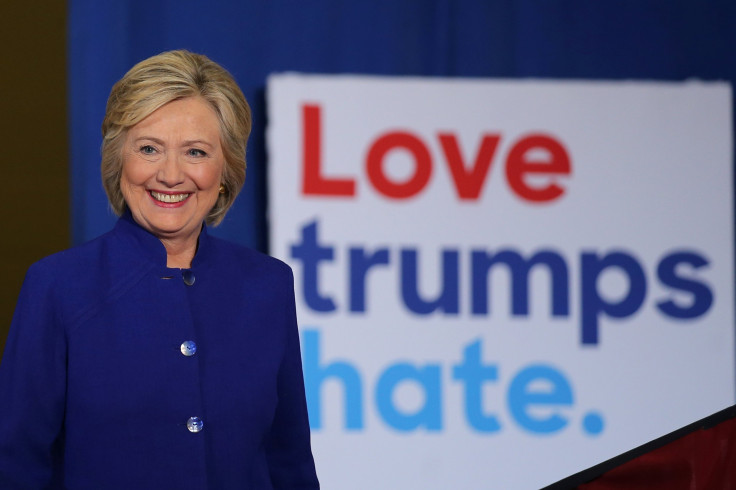 © Copyright IBTimes 2023. All rights reserved.